Post 41 season ends with 7-1 loss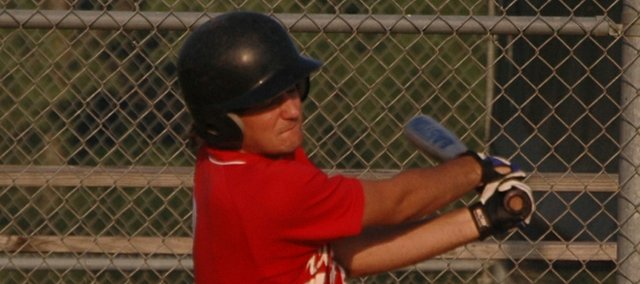 The Post 41 baseball season came to an end this weekend when Tonganoxie lost for the second time in the Post 23 American Legion League Tournament.
After defeating the Leavenworth Knights on Tuesday in its tourney opener, Tonganoxie lost to the Leavenworth Wranglers on Friday and the Easton Lions on Saturday, finishing Post 41's run in the double-elimination tournament.
The 7-1, season-ending Saturday defeat at Leavenworth Sportsfield came on a brutally hot afternoon and Post 41 remained close with the Lions through four innings.
Easton took a 1-0 lead in the first inning but Tonganoxie tied the game in the third with a Brett Bailes solo home run.
The Lions then finished off Tonganoxie with four runs in the fifth and two more in the sixth.
Post 41 coach Pat Bailey said his guys made contact but just seemed to be hitting a lot of easy-to-catch fly balls.
"It was a lackluster day by us with the bats," he said.
Bailes went 2-for-2, scoring the only Tonganoxie run. Grant Ebbert was 2-for-3 and Kyle Newton, Corey Klinkenburg and Jacob Stauch all went 1-for-3.
The night before, the Leavenworth Wranglers defeated Tonganoxie, 11-3, in Post 41's home finale at the Leavenworth County Fairgrounds.
Tonganoxie fell behind early, 2-0, when Will Brown blasted a home run to center. Post 41 hung around for awhile before the Wranglers blew it open with a four-run sixth.
Pat Gallagher went 2-for-4 at the plate on Friday. Newton was 1-for-3 with a double and an RBI and Grant Ebbert scored once and doubled. Ryan Stockman went 1-for-3 and scored a run.
Bailey said, despite a season with more downs than ups, his team remained positive to the end.
"I was proud of them, they didn't let themselves get down easily," he said.
The coach said the highlight of the season was defeating the Knights, 6-2, in the tournament opener, calling it his team's best game of the year. Bailey, fourth-year coach at Tonganoxie, said it was the first time a team of his beat one of Knights coach Shawn Scanlon's teams.
Post 41 numbers
Here are some batting averages and on-base percentages for Tonganoxie batters this summer.
Grant Ebbert, .528 AVG., .653 OBP
Jon Harris, .400 AVG., .460 OBP
James Bailey, .364 AVG., .514 OBP
Kyle Newton, .350 AVG., .469 OBP
Pat Gallagher, .333 AVG., .486 OBP
Ryan Stockman, .325 AVG., .509 OBP
Corey Klinkenburg, .297 AVG., .469 OBP
Brett Bailes, .292 AVG., .346 OBP