Speed, talking rampant at camp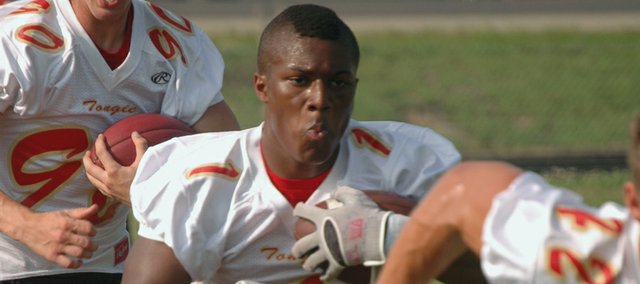 Photo Gallery
2008 Tonganoxie High football camp
Monday through Friday of last week, the Tonganoxie High football team - as well as a few youth campers - started getting ready for the rapidly approaching football season with the Chieftains' annual summer camp.
Coming off a 1-8 season in 2007, the Tonganoxie High football team entered its five-day camp last week with a clean slate. And the Chieftains didn't waste any time establishing a new attitude for the 2008 campaign.
Coach Mark Elston made his way to the field just before 5:30 p.m. - the scheduled start time - the first day of camp only to find that his returning THS players had taken charge and decided to get things started 15 minutes earlier.
That initiative was just one of many things that impressed Elston at camp. He said the whole team came ready to accomplish something, the coaches weren't forced to waste a lot of breath repeating things and returning players proved to have retained everything they learned last year. All of those elements made for what Elston called an impressive tempo at camp.
"We were getting through 60 or 70 plays in practice," he said, calling the team's focus "tremendous."
The speed with which they were moving through the camp agenda might have been made possible by the team's physical speed on the practice field.
"The team speed is good as it's been in a long time," Elston said.
Middle linebacker Boomer Carey said the team is fast at every position, including the line. Carey, who already has heard a buzz around town that THS doesn't have enough bulk up front, said the team will be fine without a single 300-pound hoss on the line.
"If you've got guys that can shoot the gap and get in there on defense, that can hold their own with their speed just by cutting, you don't need one (a 300-pounder)," the senior said. "It's better to have someone that can move with speed than someone who's big and strong and can't move at all."
This year's crop of Chieftain linemen can move, but perhaps just as important, they also have displayed a gift of gab, talking at the line of scrimmage on offense more than ever.
Senior lineman Clinton Kissinger said he and his trenchmates know they can influence the outcome of a game by winning the war at the line of scrimmage.
"That's where it all starts," he said. "If we get a big push up front that's just better for everybody."
Fellow senior lineman Billy Seymour agreed and said if the Chieftains want to instill a winning attitude this year, the line is the place to start.
"We're talking a lot better than last year," he said, noting an improved camaraderie this season. "We just tell them how it is."
The improved communication, quarterback Jeremy Carlisle said, has already made a big difference and it has led to better execution of the Chieftains' offensive playbook.
"The offensive line is talking," Carlisle said. "They've already talked more this week than they did last year the whole season."
The change hasn't been lost on Elston either. He called it "refreshing" and said he is always happy to see his linemen pointing out who they are about to block.
"We're not shy about where we're going to run the ball or what we're going to do," he said, estimating that the chatter limited the busted-plays total at camp to roughly a dozen. "That's phenomenal for the first week of camp."
The positive vibes are making last year seem like a decade ago.
Said junior receiver Justin Jacobs: "I just feel like we have more energy and we're ready and everybody wants to have a successful year."
With a new attitude, improved communication and speed to burn, right now the future is wide open for Tonganoxie.