Youth campers look up to their prep elders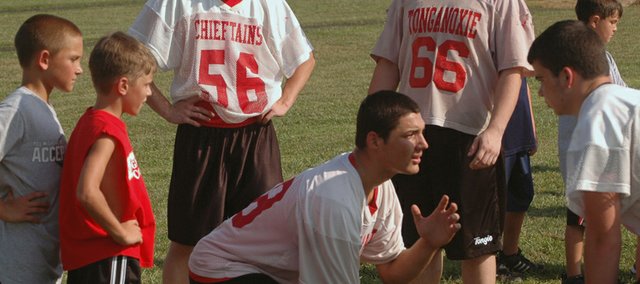 Photo Gallery
2008 Tonganoxie High football camp
Monday through Friday of last week, the Tonganoxie High football team - as well as a few youth campers - started getting ready for the rapidly approaching football season with the Chieftains' annual summer camp.
For three out of five nights at Tonganoxie High football camp last week, the Chieftains had more to worry about than executing their roles and impressing their coaches in drills.
Tuesday through Thursday evenings, the varsity players had the added responsibility of assisting coaches with about 85 youth campers, who came ready to learn about everything a middle school football player needs to know.
The youth camp serves as an introduction to football for the younger players and as an important step toward one day becoming a varsity player for seventh- and eighth-graders.
THS sophomore quarterback Jeremy Carlisle said one of the challenges of working with younger kids is that a lot of the gridiron lingo is lost on them.
"It's hard working with littler kids because they don't understand everything you're used to hearing at high school camp," he said.
But the prep players didn't let that get in the way of helping out the youngsters. Senior lineman Billy Seymour, who started attending the camp when he was in seventh grade, said the elder statesmen helped the less experienced kids with the basics, working on the little things: "Taking the right step, the right angle, stuff like that," he said.
Another senior lineman, Clinton Kissinger, said the players felt like they were making an impact on the youth campers.
"We just help out here and there where the coaches can't get to them - there's so many little kids," he said. "It's been good. They're listening and everything and they're all improving."
Tonganoxie junior receiver Justin Jacobs said the Chieftains focused on setting a good example for their young apprentices and coached them on things they will need to know in the future.
"I can see the seventh- and eighth-graders picking up and getting down the plays that we're running," Jacobs said.
The development of those older middle school players, Carlisle said, is one of the exciting parts of camp because those guys will be his teammates at THS before his prep days are over.
"That's pretty cool to me," Carlisle said, "seeing the guys I'll have when I'm a junior and senior."
Senior middle linebacker Boomer Carey, who had a younger brother come to the youth camp, agreed, saying that the young campers could use the experience for more than just getting in shape.
"It's just like a learning opportunity so that when they do get here they'll be ready and know what to expect," Carey said. "You've got to walk before you can run."
Although THS coach Mark Elston knows the campers are learning about the program he said they also are beginning to show some Chieftain pride. The coach enjoys watching the young guys, who are still fans, take stock in the program and, often times, choose a favorite THS player from their camp experience.
"It's important for the young kids to see them so they know who they are cheering for on Friday nights," Elston said. "We like that because it gives our varsity players a sense of responsibility."