Organizers hope crowds turn out for fair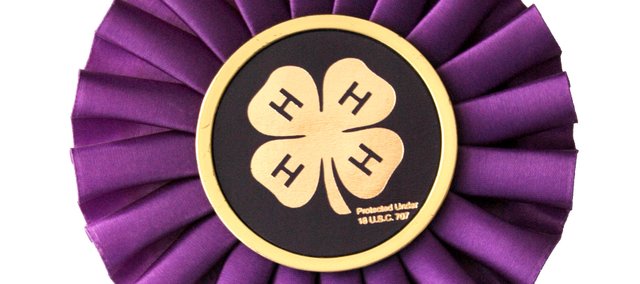 Tonganoxie — David Todd doesn't carry around a crystal ball telling him how many people will make it out to the Leavenworth County Fairgrounds for this year's fair.
The Fair Board president will have a better idea once the fair actually starts. But he hopes high fuel prices and other costs putting a strain on consumers don't keep people away from the fairgrounds.
"At this point, it really hasn't," Todd said about the effect of higher costs. "We can't tell yet. It's too early to say.
"I'm going to guess, just going from my personal experience and other people I know. I've cut down on driving trips I have made."
For instance, Todd, who lives north of Leavenworth, noted he normally makes two to three trips a week for small details this time of year in preparing for the fair.
"This year, I'm making phone calls more," Todd said.
It's about a half-hour drive from Todd's home to the fairgrounds, so mileage can add up with multiple trips weekly.
Todd said there traditionally are some groups of people that show up on multiple days for the fair.
"Most years there's certain people who come out every single night," Todd said. "We might still have some of that, but there are some who won't (because of the fuel costs).
On the flip side, the current situation could work in the fair's favor. With the trend of families trying to save money by taking vacations closer to home, the fair could satisfy a less expensive summer family "getaway" with its various activities.
"Parking is $2 and everything else is free expect events in the grandstands and the mud run," Todd said. "If you take that into consideration, we're a pretty good deal."
Getting involved in fair preparations
People who attend the fair can also play a part in organizing it.
Todd noted that along with the Fair Board there also is the Fair Association. Anyone who is 16 or older and living in Leavenworth County may join the fair association. Membership is $1 annually.
The association elects seven directors. Once directors are elected, officers are then selected.
Todd said people will approach him during the fair with ideas or complaints about the fair. He said he tries to jot down all of the comments and feedback he receives, but with fair week being such a hectic time, he said it's better for people to get involved and let their thoughts be heard as members of the Fair Association. Or, people may attend Fair Board meetings, which are at 8 p.m. on the third Monday of every month, except August. Meetings are at the administration building at the fairgrounds.
Spotting some Shriners
People might notice members of the Abdallah Shrine taking tickets at fair events next week.
Todd said Shriners would be helping out Fair Board members by working gates or other responsibilities. With various 4-H and FFA activities going on during the fair, Todd said it was sometimes difficult for all board members to be available to take tickets and the like because they're involved with those 4-H and FFA activities.
Between 10 and 15 Abdallah Shrine members would be helping out at the fair. The Fair Board is giving $150 to the Shriners' organization in return, Todd said.
The Abdallah Shrine Rodeo has been contested the past two years at the Leavenworth County Fairgrounds. It had been at the Wyandotte County Fairgrounds for several years, but that land was sold for development.
"I'm glad to see the cooperation between the two groups," Todd said.