Assistant starts work with
TRC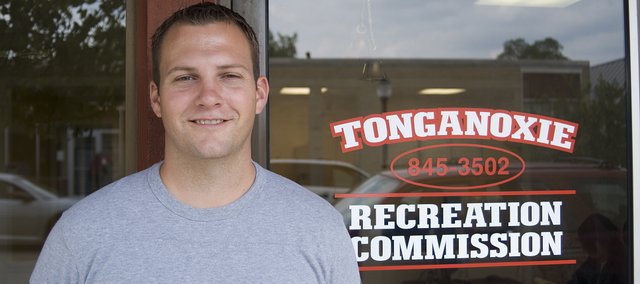 Tonganoxie just increased its population by three new residents.
After a two-month search for a new assistant director for the Tonganoxie Recreation Commission, the board gave the job to a Gridley man who will move here with his wife and child.
"I've been into sports my whole life. I'm a sports nut," Brad Eccles, the new TRC assistant director said. "In school I didn't know what I wanted to do. I like kids and I didn't want to be stuck behind a desk."
Eccles, who started work at the beginning of the month, replaced Paula Bollinger, who left Tonganoxie in May after serving the TRC for four years.
Before coming to Tonganoxie, Eccles was the program supervisor for the Bel Aire Recreation Department. Before that, Eccles ran programs at the Wichita YMCA after he graduated in 2004 from Emporia State University with a degree in recreation.
Eccles will be moving to Tonganoxie with his wife Lindsay and son Piercen, who will turn 1 on Aug. 24.
Lindsay does not start her new job in Lawrence until September, so she has been living in Bel Aire with Piercen, while Eccles works in Tonganoxie on Mondays through Fridays. He goes back home on the weekends, but then has to make the two-and-a-half hour commute to Tonganoxie on Mondays to start the week. Bel Aire is near Wichita.
Eccles said the most difficult part was leaving his family each week.
"Luckily [Piercen] was still sleeping when I left," Eccles said about his commute Monday. "I just checked in on him and said goodbye without him looking at me, but last week was really rough."
He has been staying with Gayle Parker, TRC director, and with a friend who lives in Lenexa.
During his first week Eccles has been getting the grand tour of the city and meeting with school and city employees. He also has been settling into his new work space at the TRC office. Eccles was impressed with what the TRC had to offer compared to what Bel Aire offered, even though his old town was bigger.
"I can' find any place in the state of Kansas that is as small and offers this much variety," he said.
He also liked the participation level from the residents.
"I had the toughest time in Bel Aire getting volunteers and instructors. Since I've been here, I've gotten many phone calls from people wanting to volunteer or to teach a class. That's pretty rare."
For now Eccles is looking into continuing the programs that Bollinger had started and then expanding them while creating his own programs.