Retired teachers try to fill void of classroom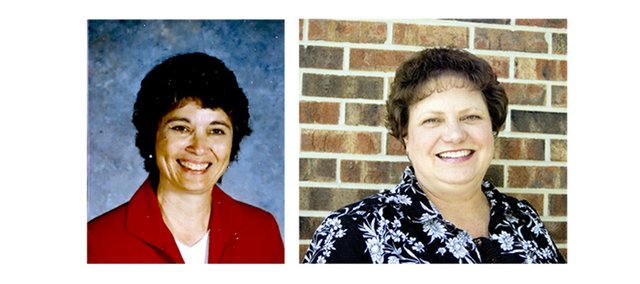 There are always two things you can be assured of in August: Hot weather and the beginning of the school year.
But while many Tonganoxie school children get ready to see old friends in the classroom, there are four familiar faces that will be missing.
After decades of service, three Tonganoxie Elementary School teachers - Merrilee Cooper, Deborah Wedel and Shirley Welch - and Tonganoxie Middle School's Marilyn Daniels have all decided to give up the chalk and focus on the next phases of their lives.
For Cooper, retirement is going to mean spending more time doing the things she loves: Working with horses and traveling.
Over the summer, she has been spending more time working with her Arabian horse Magna Carta, a.k.a. Jimmie. Cooper is trying to work on getting certifications in natural horsemanship, which she said encourages people to look at things through the horse's point of view. This technique is something she said was important to teaching.
"If you couldn't see what you were doing through the eyes of your students, you will have more difficulty," she said. "That's why I find it really interesting. It's all connected to teaching."
The summer has also meant preparing for her semester-long trip to Italy with her husband Ted Frederickson, a journalism professor at Kansas University.
Cooper got her start teaching elementary school while she was abroad. At the beginning of her career, Cooper was a junior high art teacher in Oregon. She got the opportunity to teach art in Nepal and she took it. When the Nepalese schools needed a full-time elementary school teacher she stepped in. She said she enjoyed spending the whole day with kids instead of the small blocks of time she would get as an art teacher.
Cooper still works at TES, but not in the same capacity. She and other teachers take care of the outdoor classroom. She said she won't miss all of the paperwork, but what she will miss are the children. Cooper recalls what a third-grader told her after she announced her retirement.
"Last year on a field trip one of my little boys turned around the bus seat and said, 'No, you can't retire. There won't be anyone to hug on the first day.' I started crying. All of my former third-graders won't have anyone to hug."
On the first day of school, it's a tradition for students to hug their teacher from last year before entering their new grade.
Cooper said she may wait by the busses on the first day to greet her third-graders.
Even though the job was sometimes seven days a week and at times kept her up at night, Cooper said she enjoyed her time as a teacher.
"You can't fall into teaching. It only works if the passion is there," she said. "A lot of people find that out. It really takes everything you got to do it well. It's a profession that I spent 30 years in and I don't regret any of it."
Daniels has been in the education business for 32 years. Retirement for her means getting to spend more time with family and finding more time to volunteer although she said it didn't feel as though she was retired until earlier this month when she saw teachers heading back to the middle school.
"Whenever that calendar turned to August my mind was at school already, thinking of the things I wanted to do new for the year," Daniels said.
Even not having to wake up at 4 a.m. - her quiet time to grade papers - took some getting used to.
Like Cooper, Daniels' career started a little bit differently than it ended. She began teaching third grade before moving to teach students with learning disabilities at the middle school level. She finally ended up teaching English because, "Who could not like English? The literature is always so much fun and there's such a great variety," she said.
There were advantages to sticking to one subject and staying in the same school district. She said after 25 years she started teaching children of some of her former students.
"Talking to them as a parent when you once had them in the classroom : it's really a delight to see how seventh-graders can be a little whacky at times and then seeing what they grow up to be," she said. "You feel like you know the child very well when you've had their parents too."
Asked whether she would ever return to the classroom, Daniels left her options open.
"I have found in my life that you never say, 'never,'" she said. "Things change, outlooks change. I'm still fairly young - that's a relative term - but I don't have plans at this point. The nice thing about being retired is that whatever I want to do that is what I'm going to be doing."
During the summer, Daniels has been doing what she has normally done every summer, such as vacationing and continuing to volunteer with the Kansas Audio-Reader Network.
While her retirement will give her more time for her volunteer work and her work in her garden, her main reason for retiring is to spend more time with family.
"When you're younger and your parents are older, you need to give more time to them," Daniels said. "I really wanted to be able to devote my time to my parents while they are still here."
Look for profiles of the two other teachers who have retired in the district - Deborah Wedel and Shirley Welch - in upcoming editions of The Mirror.