In the summertime, Chieftains rise and shine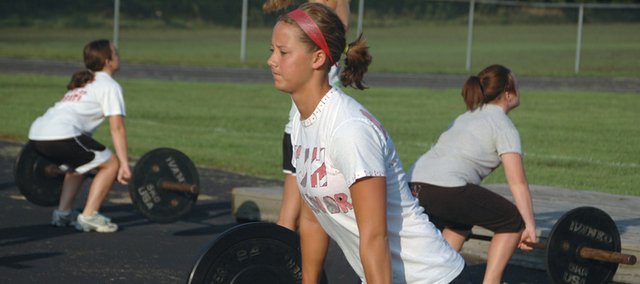 They didn't have to do it.
Not one Tonganoxie High athlete had to get up extra early and attend voluntary summer strength and conditioning workouts.
But they did anyway.
Beginning May 30 and wrapping up the first week of August, some Chieftains from every sport spent their summer mornings becoming better athletes.
THS girls, including a handful of graduates, had workouts three days a week - at 7:15 a.m. for freshmen and 8:30 a.m. for 10th-12th grades - with more than 70 participating on one occasion.
That number was a far cry from the turnout athletics director Brandon Parker saw when he worked with football coach Mark Elston and football assistant Matt Bond to revamp the THS summer workout routine in 2001. That first year, only five girls participated.
But as the Chieftains' girls programs have grown more successful, more and more girls have shown up.
"They see that it works," Parker said.
Parker and other THS coaches work the girls by putting them in what he calls an "unstable environment." Most of the training keeps the athletes on their feet and moving while focusing on the body's core, balance, technique and form.
Parker said the girls don't do what many would consider a standard weight-room workout. They mostly stick with free weights and multi-joint exercises.
"I really don't care how much you can bench press," Parker said. "It's: Can you make the play? So we work on functionality, we train in an unstable environment because that's what sports is."
Parker said the coaches get excited when they see athletes dedicated to summer improvement. Because the sessions aren't mandatory, the people who show up are fully dedicated, he said.
"These are the people that will wind up playing," Parker said of the summer warriors. "Why? Because we like them more? No, because they're working."
Entering her senior year, Lauren Himpel, who runs cross country and plays softball for THS, said it wasn't always easy to get out of bed during summer vacation to go train and sweat.
"After four years, you just get up. But sometimes you just lay there and you don't really want to get up but you do anyway," she said.
Himpel said the workouts are generally toughest on the youngest girls.
"When you're a freshman, you don't know what you're getting into," she said.
Liz Baska, a 2008 THS graduate who is headed to the University of Dallas to play volleyball, said the upperclassmen and alumnae remember how tough the program was when they first got to THS.
"It's hard as a freshman; it's a body shock. You don't even know that you have those muscles," Baska said.
That is why the seniors always make a point to constantly encourage the freshmen to stay with the summer routine.
Message received. One summer newbie, freshman Brooklyn Kerbaugh was at the final summer workout on Friday morning with some formidable could-be excuses for not attending - a broken right wrist and some missing wisdom teeth that had been removed last week. But she was there anyway, participating in what workouts she could.
Boys up even earlier
The girls were able to sleep in a little longer than the boys, whose summer workouts began at 5:55 a.m. - in part to teach them about commitment, but also to comply with the work schedules of some athletes - four days a week.
The 75-minute workouts, open to everyone - not just football and basketball players - for the first time this summer, came every weekday except Wednesday for eight weeks.
Bond said they avoided sport-specific exercises and one of the reasons was because a Class 4A school such as THS needs athletes to be versatile.
"We want kids playing three sports," he said.
The primary objective of the summer program, Bond said, was to get the more than 40 Chieftains attending stronger.
But they didn't just work on weightlifting. The first four weeks were mostly strength moves and explosive movements with some change-of-direction and pylometrics training as well.
By the fifth week, the coaches added more speed exercises and linear movements and the final three weeks featured more conditioning.
Bond said the athletes were tested three times during the course of the summer and showed improvement on each occasion.
"The biggest thing is we want them to increase their strength and be functional," he said, adding that they didn't do any bodybuilding movements.
The Chieftains who got up early immediately saw the benefit of doing so.
"Physically, they see it right away. They see the gains they make and that builds confidence and that's big," Bond said, adding that it also is positive for them to see their teammates making the same gains.