Fort to get new multi-faith chapel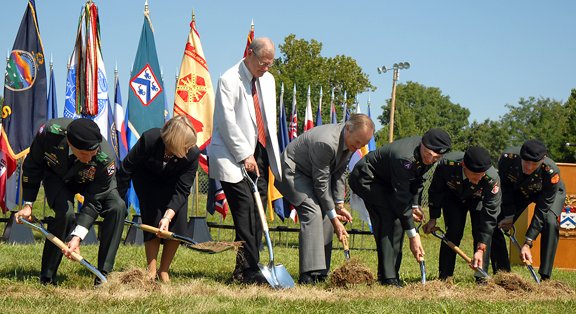 U.S. Reps. Nancy Boyda, D-Kan., Ike Skelton, D-Mo., Chet Edwards, D-Texas, and post commander Lt. Gen. William Caldwell were on hand to break ground for a new Main Chapel at Fort Leavenworth Monday morning.
Boyda is a member of the House Armed Services Committee and the House Agriculture Committee, Skelton is chairman of the House Armed Services Committee, and Edwards is chairman of the Appropriations Subcommittee on Military Construction.
The new multi-faith chapel, with seating capacity of 1,180, will replace the St. Ignatius chapel, which was built in 1889 and destroyed in a fire on Dec. 16, 2001.
George Marcec, public affairs operations officer with the fort, said the remaining two chapels at the fort provide nine worship services for different faiths each weekend.
Since the destruction of the St. Ignatius chapel, many groups that previously met there had to use different - and sometimes substandard - areas around the fort, Marcec said.
He said the new chapel will include a worship sanctuary, activity center, religious education classrooms in the Family Life and Religious Education Center, multipurpose rooms,, kitchen, storage, and administrative space.
The construction of the $15.5 million chapel has a completion date of March of 2010