Kindergarten event caters to parents
Inaugural Boo-Hoo Breakfast helps parents part with kids for first day of fall classes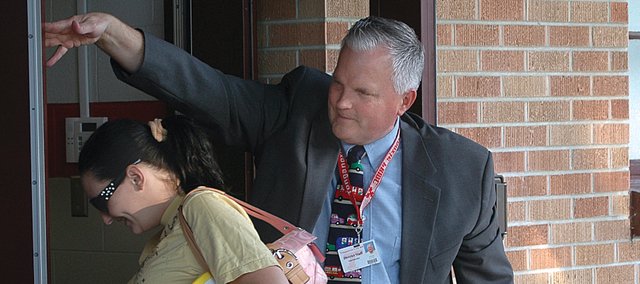 Christy Angell wasn't ready to let her littlest Angell spread her wings and start kindergarten Monday at Tonganoxie Elementary School.
"If people would have stopped hugging me I would have been OK," Christy Angell said with a laugh. "If you talk to me, I'm good."
Angell just wasn't ready to see her youngest daughter, Sydney, 5, enter her school years.
"I didn't cry this much with my first child," Angell said of Samantha, who is 7. "I had Sydney at home to take care of, and now I don't have any more kids."
For parents such as Angell, an event implemented for the first time Monday was ideal.
Kindergarten teachers organized the inaugural Boo-Hoo Breakfast. Parents of kindergartners met in the school cafeteria for doughnuts and refreshments.
According to assistant principal Ty Poell, the breakfast's purpose was to allow parents some networking opportunities, meet some of the personnel, provide basic orientation about the school and services that are offered, and welcome them to TES.
Poell, principal Tammie George and guidance counselor Connie Weltha and her therapy dogs were at the breakfast.
George said teachers also printed out copies of a poem for the parents called "The First Day." George said the main message for parents was to assure them that their children are with loving teachers who will take care of them.
"Statistically speaking, I think we had more parents boo-hooing than students today," she jokingly said.
"Their children might get teary-eyed when the parents leave, but it normally doesn't take long for them to interact with students and they're fine," George said, noting she once was one of those parents who also became misty-eyed when her children started school.
"Sometimes it's the children who are boo-hooing, but it's a little of both," she said. "Whether it's your first child or last child and now they're school age. And sometimes as a parent, it's pretty hard to let them go."
Tiffany Parker, who is in her first year of teaching at TES, mentioned the idea of the Boo-Hoo Breakfast to her fellow teachers. Parker, who earned a bachelor's degree from Kansas University and then earned her teaching certificate through Ottawa University, learned of the idea through a classmate at OU.
She said Tonganoxie's breakfast was a collaboration of all the kindergarten teachers.
"Everyone brought in a little piece to it," she said of the teachers. "This was a way to build a classroom community through the parents."
She said fellow first-year teacher Tina Breedlove came up with the poem.
"We have an exciting group," Parker said about the kindergarten teachers. "A lot of experience and a lot of newbies. It's a pretty good mix. It will be an exciting year. A lot of fresh ideas and a lot of 'I know what works.'"
For Angell, the breakfast was a perfect event for she and other kindergarten parents.
"I thought it was great," Angell said. "I thought it was nice that they did something like that."
And when Angell returned later Monday to pick up her two children, she was fine with the situation.
"A lot of parents were completely OK with it, but sometimes it's just hard letting go," she said. "But when I picked her up from school, I was fine. I just can't believe she's old enough to go to school by herself."