Volk hopes productive summer will help him at
UAB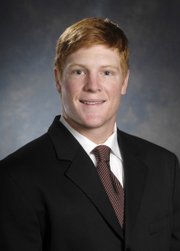 A year ago, Danny Volk left Tonganoxie and headed to Alabama with uncertainty staring him in the face.
A heralded outfielder for Tonganoxie High, Volk decided to walk on to the baseball team at the University of Alabama at Birmingham, where his older brother, Johnny, was a left-handed pitcher.
Volk said the situation put "a lot of pressure" on him from the get-go because he had enrolled in a school with no guaranteed spot on the baseball team's roster.
"That was pretty tough, just to make that decision," he said recently in a phone interview.
He made the Blazers as a walk on, but Volk took a redshirt his freshman year at UAB. Still, he is glad he made that decision.
"Our coaches, they're incredible guys," he said. "They just took me in and started working with me."
Volk said with their help he really improved. He gained 20 pounds of muscle on the team's redshirt weight program and he is looking forward to his second year with the team, especially after a successful summer playing in the nearby Ban Johnson Baseball League.
Batting in the middle of the lineup for the KC MSBL Royals as an outfielder and designated hitter, Volk batted .289 with 24 hits, six doubles and 15 RBI in 29 games. He made the league's all-star team as the Royals went 29-9 and took second place in the BJBL postseason tournament, which featured Volk's biggest individual moment in some time.
In the first game of the Royals' championship series with the Milgram Mustangs, Volk was playing left field and the Mustangs had runners on first and second with no outs. Then, a Mustangs batter blasted a shot to left field that went over Volk's head but he dove onto the warning track for the catch - saving the inning and getting a lengthy scrape on his arm - and the Royals won, 5-1.
"It was a big play," he said. "I kind of felt like it saved the game."
Most of the players in Ban Johnson play for junior colleges, NAIA and NCAA Division II schools, and Volk knew it would be a good way for him to spend his summer vacation while back home in Kansas. He chose it over the Jayhawk League, another summer collegiate baseball option that requires a lot of traveling, because he would still have time to keep a full-time summer job hanging insulation for a lumber company while working on his game in the evenings.
The plan worked, save one snag. During an at bat, Volk was beaned by a pitch on his left hand. He didn't realize it at the time (or until more than two weeks later when he had it examined) but his hand was broken. In the meantime, he kept on playing through the pain.
"A lot of times I was holding the bat with just one hand, it felt like," Volk said. "Man, that's tough."
Once his Royals coach, Matt Goldbeck, found out about the injury, he kept Volk out of the lineup so he could recover before the league tournament.
Goldbeck raved about Volk's attitude throughout the summer.
"He is the ultimate team player that will do the little things to help your team win," said the assistant baseball coach from Kansas City Kansas Community College. "But, more importantly, he is a good person that knows the value of hard work and loyalty."
Looking back on the season with his second year at UAB now in front of him, Volk said he was happy with his summer vacation time on the diamond.
"I thought I did pretty well given the circumstances," he said. "Two and a half weeks with a broken hand didn't help much."
But after being away from the game a little as a redshirt, Volk was glad to be playing competitively.
"Just getting back into it was great," he said.
Now he has some positive momentum rolling as he gets back to UAB's campus. The Blazers have three returning senior outfielders, but Volk hopes he can break into that rotation or see some time at DH.
Regardless of what happens, he plans to stick it out at UAB.
"I've got four more years of eligibility left," he said, "and I'm looking forward to them."