Boston pair travels through area as part of coast-to-coast trip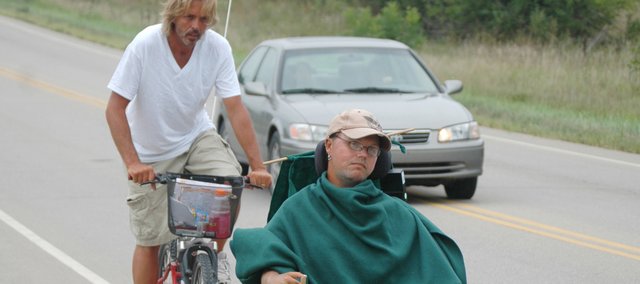 Without a car, Matt Eddy and Ron Steenbruggen left New England on June 30 to embark on a mission across the United States. Day 52 of that assignment brought them right through Tonganoxie and then Lawrence on Wednesday.
Eddy, in a motorized wheelchair, and Steenbruggen, on a bike, are taking a long trip to Long Beach, Calif., to raise awareness about housing and institutionalization issues that face disabled adults like Eddy, a 31-year-old man from Lynn, Mass., with Duchenne muscular dystrophy.
Midday Wednesday, Eddy and Steenbruggen rolled through Tonganoxie on U.S. Highway 24-40 and then traveled south on the highway to Lawrence. They planned to travel south through Lawrence on U.S. 59 and then west on U.S. 56, which intersects with U.S. 59, about 10 miles south of Lawrence.
Eddy brainstormed the trip - he and Steenbruggen, his caretaker, average about 30-40 miles a day in ideal conditions - four years ago and decided to take action in May when his apartment was foreclosed.
They don't yet know when they will arrive in Long Beach, but they are spreading the word about their nonprofit organization - Matt's Place - everywhere they go.
For more information on Matt's Place and Eddy, go to officialmattsplace.org or log on to You Tube and search "Roll'n Across America."