Bowyer eager to race in
KC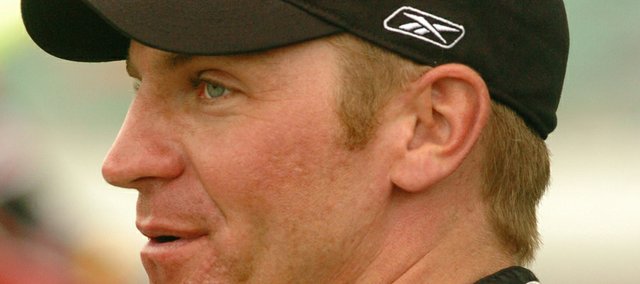 Kansas City, Kan. — The NASCAR Sprint Cup Series Kansas 400 is a little more than a month away, but the race already is on Clint Bowyer's mind.
Bowyer, the driver of the No. 07 Jack Daniels Chevrolet Impala SS on the Sprint Cup Series, desperately wants to win the race on Sept. 28 at Kansas Speedway for personal reasons. He's a Kansas native, having grown up 105 miles southwest of the Speedway in Emporia.
"This is the track that I want to win at more than anything," Bowyer said.
Bowyer was in town on Wednesday, Aug. 13, to support a presentation at Kansas City Kansas Community College for the Hard Rock Hotel and Casino proposal to the Kansas Lottery Gaming Facility Review Board. The proposal is one of four seeking to bring gaming to Wyandotte County, but it's the only one that would be located on the grounds of the Speedway. That's a big deal to Bowyer.
"I've watched this place become one of the most premier race tracks in all of motor sports," he said. "It's not only about the race track. It's about the area, the city. We get a chance to go to a lot of different cities, a lot of different race tracks and race in front of a lot of different fans, and there's not a racetrack around - obviously I'm partial to Kansas Speedway because I'm from here - but there's not a racetrack we go to that's more fan-friendly than Kansas Speedway."
Bowyer cited the surrounding development of the Legends shopping district and Cabela's outdoors store, as well as the recent opening of the Power and Light District in Kansas City, Mo., as major attractions that appeal to both fans, racers and support staff alike.
Part of the Hard Rock proposal calls for adding a second NASCAR Sprint Cup Series race to the Speedway lineup. NASCAR would have to approve the addition.
Bowyer said Kansas Speedway was a popular destination among NASCAR drivers and he would be eager to have a second race in his home state. Kansas Speedway president Jeff Boerger said a second race - which he said he would request from NASCAR if the Speedway casino proposal were chosen - would coincide with the Hard Rock's opening and could take place no sooner than 2010 or 2011. The race would not be a new addition to the Cup schedule; rather it would be the result of moving a race from another International Speedway Corporation-owned track.
A second race would give Bowyer a second chance each year to race in Kansas. For him, winning a race in front of a home crowd would be a dream come true. Two years ago he placed 10th at the Kansas 400. Last year he was the runner-up in a controversial finish where he actually was the first driver to cross the finish line on the final lap. The title later was handed to Greg Biffle. Biffle's engine apparently shut off just before the finish line with the final lap under caution, allowing Bowyer to cross first.
Even now, Bowyer describes the result as frustrating, but he isn't bitter about it.
"It was (frustrating), but as a competitor, as a racer, I didn't deserve to win that race," he said. "I mean, obviously if you have the opportunity, the opportunity was there, you're going to take it. You're going to take every opportunity you can, but looking back at last year we were a second-place car. And obviously one more lap, circumstances would've made me the winner, but it wasn't meant to be."
With a pair of top-10 finishes to his credit at the Kansas Speedway, Bowyer hopes this year will be his turn to go to the victory lane.
Bowyer currently is 13th in the Chase for the NASCAR Sprint Cup points standings. The Kansas 400 will be the third race in the Sprint Cup series.