Leavenworth County judge denies sexual misconduct claims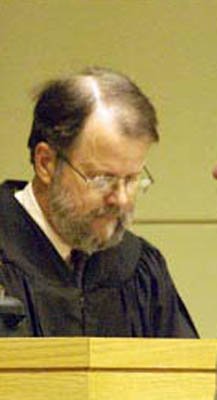 Leavenworth County District Court Judge Frederick N. Stewart, who faces an investigation surrounding alleged sexual misconduct against a former administrative assistant, denied the allegations Tuesday.
In a written response to the notice of formal proceedings, sent by the Kansas Commission on Judicial Qualifications, Stewart "denies that he has engaged in any conduct that violates Canon 1 or Canon 2 of the Rules of the Supreme Court of Kansas relating to judicial conduct as alleged in Count 1 of the Notice of Formal Proceedings."
Stewart's response came through his counsel, Basehor attorney Michael Gibbens.
Gibbens wrote there was no credible evidence to support sexual harassment allegations against Stewart.
For instance, Gibbens wrote, "Some of the alleged physical conduct that is alleged to have occurred in the parking lot of the Leavenworth County Justice Center in broad daylight and said parking lot that is frequented by many courthouse employees and acquaintances. In spite of this exposure, complainant's allegation in this respect has not been corroborated by any source independent of the complaining witness."
Gibbens also wrote that many attorneys and employees of the judicial system who had access to Stewart's chambers, while they frequently saw the complainant in his Stewart's office, reported that his door always was open. And no one has reported they ever heard or saw Stewart take any action or say anything in the complaitant's presence that was believed to be sexually offensive.
Questioning credibility
Stewart's response also raised questions about the former employee's credibility.
Gibbens wrote that the complainant was addicted to alcohol and prescription narcotics and was forced to enter an inpatient treatment program.
Despite the allegations raised in the complaint, the employee did not complain to a district judge or the judicial administrator or anyone else with supervisory authority for roughly nine years of employment, Gibbens wrote.
According to Stewart's response, the employee also had some credit card bills mailed to the Justice Center in Leavenworth to conceal them from her spouse, and conversations she and her spouse had with others indicated they expected a financial reward from the allegations she made against Stewart.
There was unwelcome conduct from the administrative assistant, Gibbens reported. The employee, Gibbens said, was seen and heard by various females, including attorneys, openly initiating and engaging in flirtatious acts with Stewart and others and frequently telling sexually explicit jokes in mixed company, including with Stewart.
Termination and oversight duties
Allegations filed in the formal complaint also accused Stewart of shirking his oversight duties related to administrative treatment of the aide, who was fired in December after being employed with the court for more than 12 years.
Stewart's response states the administrative assistant's duties were changed in 1998 after the Kansas Legislature authorized the creation of three new district court judge positions within the state, one of which was for Leavenworth County's First District. Shortly after that, an administrative assistant and court reporter were authorized to serve the new judge. Judges then split duties between the two district court divisions. And later, a third judge and division were added, so Stewart was not the aide's sole supervising judge.
In addition, Chief Judge David King terminated the assistant's employment, not Stewart, the response states. Termination of employment was for cause: She had been charged with aggravated battery, a felony; domestic battery and disorderly conduct; both misdemeanors.
Stewart has been on the bench since 1977.
A Commission on Judicial Qualifications hearing for Stewart has not yet been set.