Acclaimed Air Force Band to play in Tonganoxie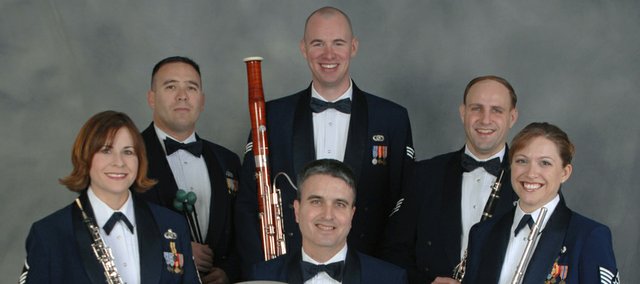 A United States Air Force Band, that travels throughout the Midwest as well as Wyoming and Montana performing at venues large and small will be coming to Tonganoxie.
The USAF Heartland of America Band, which is based out of Omaha, Neb., will be bringing its Winds of Freedom band to the Tonganoxie Performing Arts Center on the Tonganoxie High School campus.
The concert will be at 7 p.m. Saturday, Sept. 13. The event is free and open to the public.
Winds of Freedom is a woodwind quintet composed of members of the band's larger ensembles.
The group's selections will be: A world premiere written specifically for the quintet, selections from Harry Potter, some Raymond Scott music, standard quintet music and patriotic selections.
The Mirror newspaper is sponsoring the event.
"What a great opportunity for our local residents to take in a performance of a prestigious Armed Forces band," said Shawn Linenberger, news editor at The Mirror. "We invite the community to join us for a great evening of music."
The Heartland of America Band has received four Air Force Outstanding Unit Awards and five Air Force Organizational Excellence Awards. In addition, it boasts four Colonel George S. Howard Citations of Musical Excellence from the John Philip Sousa Foundation. The band has the singular distinction of being the only Air Force musical unit deployed throughout the entire area of responsibility in support of troop morale during Operation Desert Shield. In 1995, it was named a "World War II Commemorative Community" for its comprehensive support of activities recognizing the 50th Anniversary of victory in World War II. The Heartland of America Band also was honored to perform a major multimedia tribute celebrating the 150th Anniversary of Omaha.