Bulldogs stay loose with 'Goofy Friday' practices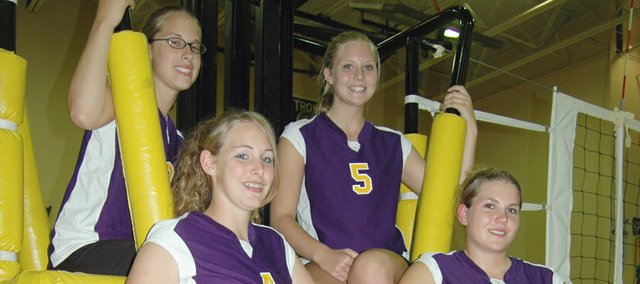 If you venture onto the McLouth High campus on a Friday afternoon looking for the Bulldogs volleyball team, don't freak out if it looks as though practice has been moved from the gymnasium to make room for a costume party.
The practice and party, actually, are one and the same.
"It's Goofy Friday, it's a team bonding thing," explained senior right hitter Kasey Campbell on Friday while sporting a Batman mask, sparkling shorts and one purple sock with a non-matching pink mate. "Every Friday we dress up ridiculously with stupid stuff you can pull from your closet. It's just fun."
Now a weekly custom, the idea was born last season (originally in another form as players sported bad hairdos) during Erika Houk's first year as MHS coach when she felt the Bulldogs were in a bit of a funk.
"Toward the middle of the season we were kind of having problems with team bonding, people not getting along," Houk said. "So I got creative with stuff and it's kind of become a tradition."
The players loved the idea - "As we've gone through more and more weeks of doing this, the outfits have just got goofier and goofier," senior hitter Haley Holwick said, decked out in beach gear, complete with sunglasses, a visor, zinc on her nose and a swimsuit over her T-shirt and shorts.
This past Friday, tie-dye, a pig mask and a Teenage Mutant Ninja Turtle were just a few of the highlights. And because the Bulldogs don the attire for the duration of practice (unless they have incorporated non-athletic shoes, some Grinch bedroom slippers for instance), it has served as a conduit for improved team chemistry.
"On the court, it's real easy to get upset with each other," Campbell said. "If you're upset and you look at someone that has on a mullet wig, I mean, how are you going to get mad? You have to laugh."
The Bulldogs enjoy Houk's loose approach. There aren't many coaches who would greenlight such fun at practice. A senior at Washburn University who is on schedule to graduate in December with her business management/finance degree, Houk, 23, has found it easy to relate to her prep players, which they, in turn, appreciate.
"She's a good coach because she's fun but you still respect her," Campbell said. "You push harder for someone that you relate to more."
Holwick agreed, saying Houk's youthful exuberance has gone over well at MHS.
"She's a really great coach," Holwick said. "I think, from her experiences last year, she's really learned a lot and learned what works with our team, what doesn't."
The second-year coach, who admitted confidence was a problem for her last year as she learned the ropes, expects things to be different this year as the Bulldogs try to establish a winning tradition at McLouth.
"They know my expectations every day at practice, in the games," she said, noting the importance of having an existing relationship with the returning players, such as seniors Campbell and Holwick and junior Kylie Shufflebarger.
After MHS went 14-22 in her first year as coach, Houk expects an improved record for MHS in 2008. She wants the team to finish above .500.
"I don't think we'll have a problem with that," she said, adding that the team has been working hard, even as it plays hard every Friday.
The McLouth volleyball season starts Tuesday when the Bulldogs travel to Leavenworth for a triangular with Immaculata and Wathena at 5 p.m.