Chieftains piecing together puzzle
Tonganoxie volleyball team looks to plug holes in middle, at libero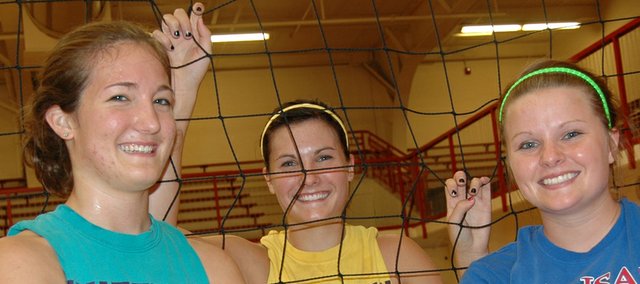 Brandon Parker crouches near midcourt, his right hand on his chin, examining the floor in front of him where the Tonganoxie High volleyball team is practicing.
It looks as if the Chieftains' co-coach is trying to solve a puzzle and, in a way, he is.
THS lost a whopping eight players from last year's 31-13 team to graduation. Just one player, senior Chrissie Jeannin, from this year's team has significant varsity experience.
"It's been different because last year we knew every single piece of the puzzle," Parker said. "They're out there. We're just trying to figure out which piece goes where."
Co-coaches Brandon and Tiffany Parker have some pieces they like as they prepare for the coming season. Jeannin and fellow senior Megan Puhr are expected to make an impact, as are junior Abby Eisman and sophomore Danielle Miller. Senior Colby Bennett should compete for playing time as well.
But holes in the picture remain. A gaping one was created when the two players the Chieftains expected to have manning the middle suffered injuries. Sophomore Molly O'Hagan injured her back on the first day of practice and freshman Brooklyn Kerbaugh broke her right wrist this summer. Even though neither has played varsity before, Brandon Parker said their presence has been missed at practice because they are the most experienced at that position and are more comfortable there than anyone else. The Chieftains are hopeful both will be cleared to play before the season starts.
The other missing puzzle piece at this point is the team's defensive specialist. Parker said as many as five girls are competing for Tonganoxie's libero spot. Despite the holes, Parker remains confident.
"Even with all these question marks : I feel good about it," he said. "This is a good group of kids. All of them - varsity, JV - they're all working hard. We haven't had an attitude problem."
That's because Jeannin and Puhr have been preaching positivity as well as versatility as the inexperienced Chieftains around them learn on the fly about varsity volleyball.
"We're working hard and trying to push them to become even more versatile," Jeannin said, noting that every player needs to know how to play multiple positions so they can mix and match on the floor and keep opponents off guard.
That should prove to be helpful as Tonganoxie, a team that finished third at the Class 4A state tournament last year, tries to remain at a high level without the players that took them so far in 2007.
"It's a big transition," Puhr said, "but we have to start with fundamentals and once we get those down we can get everything else going."
Parker said even with a new group, the Chieftains will attack the 2008 season the same way they did last year - by aiming to have their level of play peak at the end of the season.
"That's the biggest key when you have a young team," he said of remembering the big picture. "You can't let frustrations throughout the season let you lose focus on where it is that you want to go."
Tonganoxie wants to go back to state. And Jeannin realizes that if her team, which currently has a few crucial pieces missing, is to make it that far, constant improvement will be a necessity.
"It could be a completely different team by sub-state," she said.
The Chieftains' season begins on Tuesday, Sept. 9 when Tonganoxie plays host to Holton at 6:30 p.m.