Cross country Chieftains aim to improve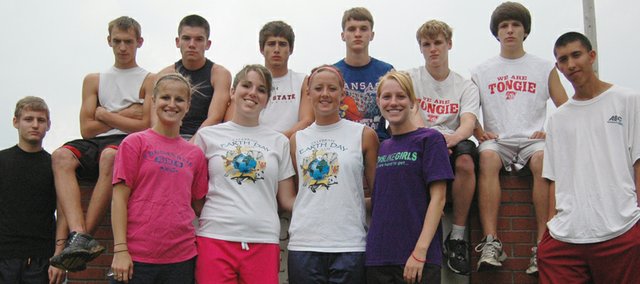 As is tradition, the Tonganoxie High cross country team had its first practice at 12 a.m. Aug 18 - the first day fall sports teams could practice - to get an early jump on the coming season.
The "Midnight Madness Run" was a certainty, but how the Chieftains will fare this season isn't as cut and dry.
THS sent one boy, Matt Brock, and one girl, Andie Jeannin, to state last year, but the boys and girls are hoping for a much better showing this season.
The boys have eight seniors - Brock, Robert Brotherton, Ben Field, Tommy Heskett, Caleb Iankui, Dalton Lawson, Kavet Letourneau and David Powell - and coach Phil Williams said Brock and Powell are the leaders of the pack.
With that many experienced seniors, Lawson said, the boys expect a big improvement in 2008.
"There's probably four or five of us that have the potential to do really well and get us to state but all eight of us could run pretty well," he said, before noting the presence of freshman Caleb Himpel should also help them this year.
The biggest question for the boys might be the health of sophomore Justin Soetaert, the team's No. 3 runner last year as a freshman. He is running with a knee injury, which Williams said might slow him down some.
"How he does will affect the success of our boys," the coach said, adding that help is on the way in the form of the ninth-grade class. "We have a couple of freshmen, though, who are really looking good, so I feel our boys should be better."
Williams also thinks the girls will be upgraded in 2008.
"Andie Jeannin and Lauren Himpel are their leaders, and the addition of Lauren Hall should help," he said.
The girls have two seniors - Melissa Hughes and Kayla Leffert - who have been running for THS since their freshman seasons and two more - Himpel and Addy Phelps - with two seasons already under their belts.
Hughes said that experience should help the team out.
"I think we have a good senior base of girls," she said. "We have a lot of freshmen this year, so even though we have a small amount of senior girls we have to step up and lead them. I think we're going to be able to do a good job."
The seniors, Hughes said, have been doing little things to help the new runners feel comfortable. At the first practice, they let the freshmen know that iPods weren't allowed while they ran (the only acceptable accessory is a wrist watch). Plus, the seniors know Williams' various practice running routes by heart.
"We help them," Hughes said of the freshmen, "just tell them where to run to, give them motivation."
Williams said he is unsure at this point about how much the less experienced runners will contribute this season - "Some of the younger ones are still developing," he said - but he knows he can trust his seniors and Jeannin, a junior.
"Andie should have a big year since she ran most of last year with her arm in a cast and still qualified for state," Williams said, noting that coaches and spectators marveled at her toughness at every meet last year.
The THS cross country season begins with a home meet at 4 p.m. on Thursday, Sept. 4..