Know Your Neighbor: Local firefighter loves big trucks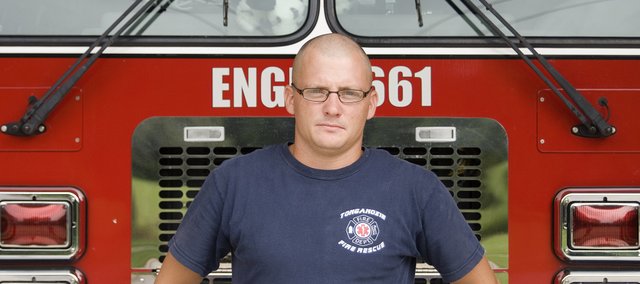 Eric Lang is no stranger to big vehicles. As a lieutenant with the Tonganoxie Fire Department, Lang spends a lot of times using his natural inclination for all things mechanical to keep things running at the fire station. But it was also that same skill that brought him here to Tonganoxie.
Before the turn of the century, Lang wasn't on the crew of a large fire truck, but on the crew of a monster truck team. Jimmy and Dawn Creten asked him to work on their monster trucks Bounty Hunter, Scarlet Bandit and Iron Outlaw.
Lang had first met the couple during a show in Lang's home state of California. He had done some work for them for a few years before he got the call to be on their crew. When the opportunity came to travel with them he jumped at the chance.
"I met them in Portland, Oregon, and headed out on the road with them," Lang said.
Fore more than a year, Lang traveled the country with the monster truck crew before coming to town.
"One day I woke up in Tonganoxie and I ended up staying," he said.
What was the reason for his stay? Stephanie, who is now his wife.
"I left home, I met a girl and fell in love. It's a pretty neat story."
Lang would then get a job working for the Tonganoxie Fire Department. Although the job is difficult, Lang said he does it because he loves helping people.
Getting to know your neighbor
Family: Stephanie, wife, Dylan, son, Brooklyn, daughter.
Occupation: Firefighter
What clubs or organizations do you belong to?
"Just the fire department"
What is the best advice you have ever received?
"When you put yourself with good people, good things happen."
What might surprise people about you?
"I'm a pretty quiet and mellow person. There are a lot of times when I just enjoy family life."
What do you do for fun?
"I really enjoy boating, health and fitness. I spend about five days a week working on cardio and lifting weights."
What do you like most about Tonganoxie?
"It's a quiet town and not much crime. It's a safe place to raise kids."
How long have you lived in Tonganoxie?
"I've lived here for about seven and a half years."