Marine receives hero's welcome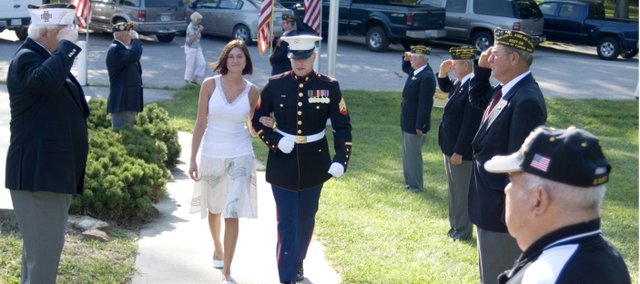 Good things come in threes, and for the family of Sgt. Tyler Robinson, seeing the 23-year-old Marine come home healthy after his third tour in Iraq, it couldn't get any better.
Camera shutters were clicking and the red lights on camcorders were blinking as Robinson pulled into the VFW Park Saturday afternoon for his welcome home party. With Victoria Wilson, his girlfriend of two years, on his arm, Robinson made his way up to the picnic shelter at the park as a group of VFW members saluted him on his arrival.
"I loved it," Robinson said about his hero's welcome. "It was nice to see all of my family."
Robinson joined the Marine Corps after graduating from Tonganoxie High School in 2003. He was 17. There he trained to be an aviation specialist and in that capacity he served in Iraq.
Robinson has been in the United States since June, but he was still stationed at Yuma, Ariz. Though Yuma, Ariz., is much closer than the deck of the U.S.S. Tarawa, where Robinson spent his last tour, his mother and father didn't get to see him until Aug. 18.
"I felt he was doing a great service for his country and I am very proud for what he's done," said Randy Robinson, Tyler Robinson's father, who lives in Wellsville. "I'm glad he's done for good. He's been there three times. That's plenty for anyone."
Robinson's mother, Debbie Heath, who lives in Tonganoxie, echoed Randy's feeling's about having their son home.
"I couldn't be any more proud of my son," Heath said. "We are just so proud that he's home safe and that he will be able to start his life."
About 80 people attended Robinson's party. Although he wasn't required to wear a uniform, Heath insisted that Robinson show the family what he looked like in his dress blues.
"He's such a handsome man," Heath said.