Tonganoxie football practicing under lights Friday night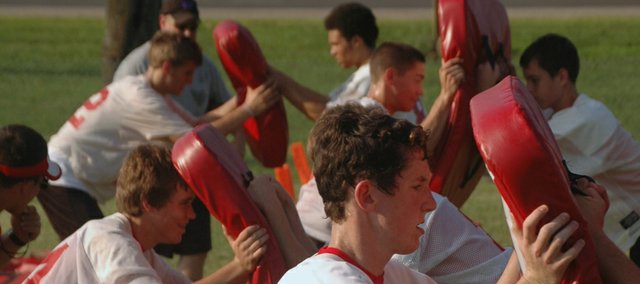 When the Tonganoxie High football team takes Beatty Field for its Red-White scrimmage Friday night, don't expect much more than a glorified practice.
Sure, the Chieftains will be strapped into their helmets and pads and playing under the lights, but that is where the similarities to a game will end, coach Mark Elston said.
The THS team will take the field at 7 p.m. and Elston said the Tonganoxie faithful won't see too many bells and whistles when the scrimmage begins.
"We're not going to show a tremendous amount," he said, adding that what is on display might be tough to follow at times.
The night will not flow like a normal game, Elston said. There will be a running clock and game situations, but probably no special teams and at times the down-and-distance markers could be confusing as well should the coaching staff decide to place the players on the field in game-specific situations.
"It'll look a little chaotic a lot of the time," the coach said. "We might start a series on third down or second down."
The coaches aren't even completely sure at this point in the week what they will be working on Friday night. Elston said he would sit down with his staff after Thursday's practice and decide what the team needs to work on.
Really, only one thing is certain for the scrimmage agenda. It will start with the youngest players on the field and conclude with the most experienced and talented players squaring off.
Besides giving THS fans a chance to see the team before its regular season opener, the scrimmage also gives the players a chance to go through their game-night routines.
"The seniors have been through it 36 times, it's not that big of a deal for them," Elston said, adding that learning the routine would be important for the young players and even the new coaches on staff, offensive/defensive line coach Brad Shelton and running backs and linebackers coach Jerry Robinson.
As for the players, Elston said they are looking forward to the scrimmage.
"They're always excited to do something out of the usual practice routine," he said, noting that the coaches will treat it just like a game, watching video and critiquing it the following morning.
But if Elston had it his way, Tonganoxie would have an exhibition against another high school instead of Red versus White.
"From a coaching standpoint, other states are miles ahead of us in allowing preseason games," Elston said, calling intrasquad scrimmages a "horrible substitute" for preseason matchups.
He is glad the players get to go through some game situations with officials on the field and fans in the stands, but he would rather play an exhibition schedule of some sort.
"It would be nice if we could line up against somebody else," he said. "We know what we can do against ourselves."