Turtle Power
Race raises funds for early-childhood development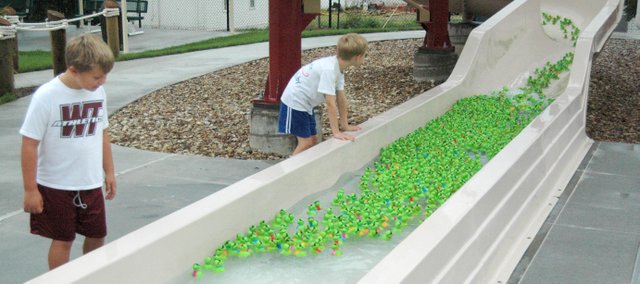 Not known for their speed, turtles were fairly quick to the finish line at Saturday's Turbo Turtle Trek race at Tonganoxie Water Park.
At past plastic turtle races, which were released at the former Chief Tonganoxie Pool, they bobbed along from one side of the pool to the other, and sometimes needed some coercing to stay on track.
But Saturday, the turtles were released at the top of the spiral slide at the new water park.
Between 30 and 40 people were at the park for the event, which raised nearly $4,000. Dawn O'Brien, executive director of the Nurturing Families Inc.'s tiny-K Program, for which the fundraiser benefited, said 684 turtles were "adopted" at $5 each. Lawrence Memorial Hospital also gave $500 as a sponsor. The tiny-K Program is the organization's program for infants and toddlers, aged newborn to 3.
O'Brien said she was pleased with the drive in 2008.
"I think the economy does have a huge impact on giving," O'Brien said. "But still, the people of Leavenworth County came out and supported it."
Coming out in first place was a turtle that Diane Rodgers of Bonner Springs "adopted." She won a first-place prize - a stay at the Great Wolf Lodge at Village West in Kansas City, Kan.
Lansing Mayor Kenneth Bernard was on hand at the water park to help out with the event.
He said the tiny-K Program is an important part of the Leavenworth County community.
"It really is," Bernard said. "The more people who get involved, the better organization it's going to be."
The Turbo Turtle Trek has been held each year since 2004. The event returned to Tonganoxie after a one-year hiatus because the new water park was being built. The event was held in Leavenworth in 2007.
For more information about Nurturing Families Inc., log on at www.nfilv.org. The organization's address is P.O. Box 188, Leavenworth 66048 and its phone number is (913) 651-1000.