Chieftains get to work on hardwood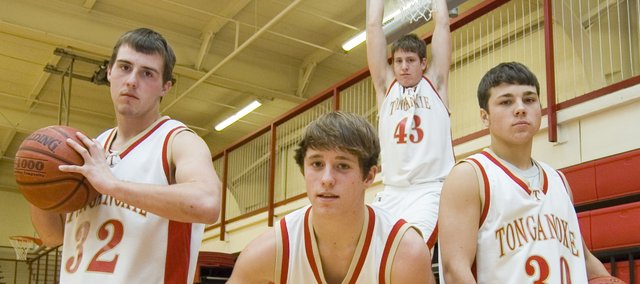 Effort is always a talking point for coaches.
But when the Tonganoxie High boys basketball team takes the floor under the guidance of first-year coach Shawn Phillips this season, the Chieftains' effort level will be a condition of paramount importance.
"We're not extremely athletic or big," Phillips said of the 2008-09 Chieftains. "We've got some kids that are pretty quick, but we're not going to out-athlete people, so we're going to try to outwork people, try to do little things the right way."
The new coach said the team still has a long way to go, but it has started on the right foot at practice thanks to some members of the team playing together in a summer league.
"We've got a core group of guys that did a lot this summer and played together and have a pretty good understanding of what's expected and how to run things," Phillips said.
The probable starting five — sophomore Jeremy Carlisle and senior Jace Waters in the backcourt with junior Keaton Schaffer on the wing and seniors Jamie Everett and Austin Smith inside — has not only been able to hit the court running, operating Phillips' system naturally without thinking too much, but also has played unselfishly.
"I don't think they really care who does well as long as we do well," their coach said.
In order to succeed, THS will be playing faster this season. The Chieftains do have the 6-foot-5 Smith starting inside, but his post mate will be Everett, who is listed at 6 feet.
"We want to be a lot faster, (more) mobile team so we can get up and down the floor on teams and wear them down," Everett said.
Added Phillips: "There's no sense to walk it down the floor and cram it into the post because that's not our strength."
Instead, Phillips wants Tonganoxie to play with speed while avoiding careless turnovers. With Carlisle, who is speedy with the ball, pushing the tempo and a roster full of players — including senior Rob Schlicht, juniors Justin Jacobs and Brandon Yoder, sophomores Tucker Hollingsworth and Dylan Scates and freshman pivot Dane Erickson — capable of running the floor with him, the hope is that THS will outwork its foes by outrunning them.
They're definitely putting in the work at practice — in the form of strict conditioning with timed runs, which Smith said can prove to be difficult. But the big man said the THS offense has been much easier to deal with, so when the Chieftains don't get transition buckets, they have a reliable alternative.
"It's a set offense, but at the same time, you can go out of bounds of what it's supposed to be," Smith said, adding that the team has a lot of options, depending on how the defense reacts.
Everett said the new offense should function thanks to the unit's chemistry.
"Last year, I just don't think we played as much as a team," the senior said.
With that mentality, Tonganoxie has a chance to be successful even though the team went 6-15 last season. Phillips said he doesn't think the Chieftains will necessarily "steamroll" opponents, but there isn't a team on the schedule they should fear.
"We never go into a game thinking we're not going to win," he said.
Tonganoxie travels Monday to the Paola Invitational for a matchup with Harmon.