Grizzle, Jeannin ready to lead Tonganoxie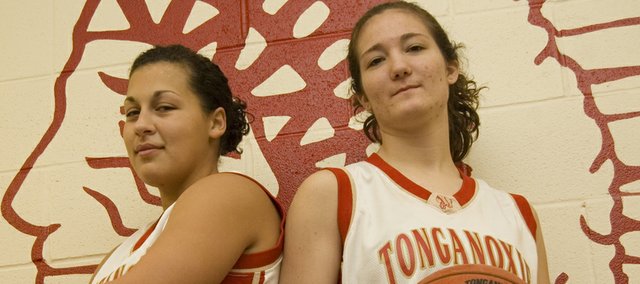 The first few days of practice, Tonganoxie High senior point guard Chrissie Jeannin was a little frustrated.
Things weren't running as smoothly as she was used to, which wasn't surprising considering the girls basketball team lost five seniors from last season's 19-4 squad. The Chieftains weren't moving like they should have been and the team's play seemed stale.
But after a few days of repetitions and tutelage from coach Randy Kraft and his staff, the speed of the game picked up as the younger players began to grasp things and practice took on a more game-like pace, which made Jeannin, the team's lone returning starter, happy.
THS, no doubt, will have a different look this year. The Chieftains may be undersized down low with senior Roni Grizzle (5-foot-9) and junior Lindsey Fatherley (5-foot-7) the team's early candidates for post production. But — "Since we're not going to be as big," Jeannin said — THS might end up pushing the ball a lot more, which the point guard also is excited about.
Because Jeannin and Grizzle are the only two players with significant experience, Kraft said the team, despite the early strides at practice, has some work to do.
"Not only do we have to develop three more starters, but our bench players," said Kraft, entering his seventh season as THS coach. "We're going to be pretty inexperienced as far as the varsity level goes. We'll probably have some growing pains early."
With a young team that has some players trying to find their roles and get comfortable, Grizzle said, there are challenges.
"We have a lot of individuals who, when they mess up, they have a hard time bouncing back," she said, noting that THS can't afford to have players shutting down after mistakes and it will be the seniors' responsibility to encourage the younger players.
Kraft said senior leadership is one of the few things he is certain he can count on this year.
"Obviously, Roni and C.J. (Jeannin) have a lot of experience and their leadership is going to be huge," he said, adding that their teammates need to be receptive to them. "It's important that you have a coach on the floor."
It will be up to Grizzle and Jeannin to make sure their younger teammates like Abby Eisman, Fatherley, Lauren Hall, Andie Jeannin, Danielle Miller, Molly O'Hagan, Haley Smith, Jessi Stinson and Madi Yates know their assignments on both ends of the court. The success of that dynamic will play a large part in determining how THS, which tied for first with Basehor-Linwood in the Kaw Valley League last season, fares this year. Both Tonganoxie seniors said they might be able to catch some opponents off guard.
"I think we should be able to be up at the top because people don't expect much from us," Jeannin said, "and we don't really have anything to lose right now."
Added Grizzle: "It's going to be hard, but I don't think we should have a problem staying up with them (the teams at the top of the KVL)."
The Chieftains' first test will come out of conference against Highland Park on Monday at the Eudora Invitational. Kraft said he would learn a lot about the team by watching them play opponents instead of teammates, which is all they have done at this point.
"The great thing is we start out with this tournament, so we're going to get the chance to see some of them. Some kids are great practice players," Kraft said, eager to see which Chieftains will prove themselves to be game-ready.