Holwick lone senior for Bulldogs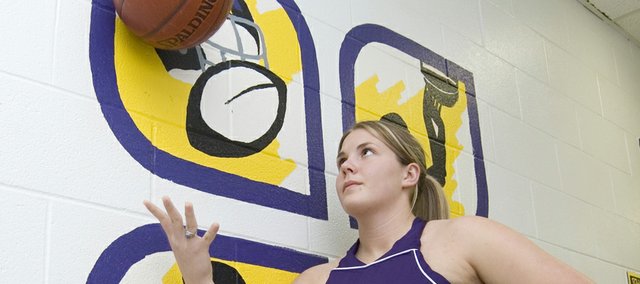 Not that it's problematic, but the McLouth High girls basketball team has a bit of an oddity on its roster this season.
Glance down the roll of 12 Bulldogs and its almost double-take-worthy.
McLouth has just one senior, Haley Holwick.
"That's kind of different," said MHS coach Todd Cossman.
Odd? Sure. But Holwick said it's no matter; she has a strong bond with the younger players, even if the least experienced ones think she has a funny way of showing it. A miscue in practice can draw some scolding not just from McLouth coaches, but also the team's lone senior.
"I think that a lot of the younger kids probably think that I'm kind of mean because I'll just tell them like it is and not worry about how they feel until after practice," Holwick said, noting that she doesn't want them to dislike her, she just wants them to do well.
Holwick has embraced her leadership role and is always open to questions when guiding her fellow Bulldogs through assignments on specific plays.
Cossman said the senior's influence is as important as her play.
"She's a vocal leader and a good defensive player, good rebounder," the MHS coach said.
Although she came off the bench last season, Holwick will begin this year in the Bulldogs' starting lineup alongside four returning starters from a team that went 13-8 last year.
The Bulldogs will be led by junior Missy Rome, the team's "do-everything player," as Cossman called her. Rome averaged 19 points, nine rebounds and four assists last season and was a unanimous all-league selection in the Delaware Valley League.
Holwick said Rome can attack from inside or outside and always seems to make the correct decision.
"She can create plays out of anything," the senior said.
McLouth's leading returning post player is junior Kylie Shufflebarger, who made significant strides in the second half of the 2007-08 season and had a couple of dominating games on the glass, grabbing 14 boards in one contest and 16 in another.
Shufflebarger will be joined in the post by junior Cassidy Bristol, and sophomore Logan Terry will start on the wing. Sophomore Jessie Troupe will be the first post sub off the bench.
MHS has two more sophomores — Haley Ford and Kaitlyn Sparks — and a large freshman class comprised of Morgan Drinnon, Caroline Overbaugh, Terri Stewart and Kamie Wisdom. Cossman said he expects Drinnon and Stewart to contribute immediately.
The coach likes the makeup of his team and thinks the Bulldogs will be competitive with the top teams in the DVL, including Jefferson County North, Oskaloosa and Horton.
Cossman expects MHS to come out of the gates strong after a somewhat streaky campaign last season that included an 0-4 start and an 8-2 finish that ended on a "sour note" in a 63-51 sub-state loss to Atchison County.
McLouth will look to build upon last season's success when its season begins at 5 p.m. Friday with a home clash against St. Marys.