Transition phase: McLouth picking up pace this year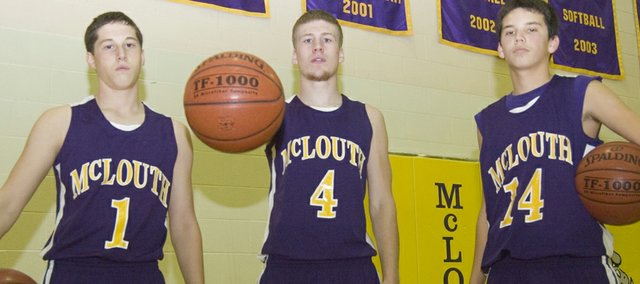 It took some time to transition to a new style focused on, well, transition, but a fresh approach has the McLouth High boys basketball team stoked about the upcoming season.
Bulldogs coach Jason Schroeder wanted to full-court press, making defense a major part of the MHS attack, for some time but wasn't completely comfortable doing so until this season.
"We've got more depth this year than we've thought we've had in a while," Schroeder said, noting now was the time to make the press a part of the team's repertoire.
"We're going to try to make other teams play our pace, try and not let the game slow down," Schroeder said. "The key is to make the other team make mistakes."
By pressing and playing at a faster pace than they have the past couple years, the Bulldogs are excited about the opportunity for more fast breaks.
"It's really fun to do," said senior guard Vinny Gonzalez. "We're going to get a lot of fast-break points this year, we're going to get quite a few steals, force a lot of turnovers."
Senior forward Jarrod Bechard said rotations with the press were hard to understand at first, but now McLouth has the hang of it and it is working at practice, especially with the first team.
Part of the reason for the pressure is what Schroeder called the team's lack of natural back-to-the-basket players. At 6-foot-3, senior forward Derrick Crouse is the biggest Bulldog on the roster. However, he's more at home on the perimeter, and although MHS has two freshmen with size, freshmen Gavin Swearngin and Alen Kramer, whom Schroeder would like to develop into post-up players, even they have played outside in the past.
Schroeder's solution? Play an up-tempo style in which players and positions are interchangeable.
With a probable starting lineup of Crouse, Bechard, Gonzalez and junior guards Cole Batman and Tyler Drinnon, the McLouth offense, when it's not fast-breaking, will feature guards and posts playing both inside and outside — "I'm usually used to playing more guard, but the offense we're running this year, I'm kind of in and out of the paint," Crouse said.
Sometimes, Schroeder said, frontcourt players will have to handle the ball up top and even 5-7 point guard Batman will have to cut to the paint and be effective.
"We're teaching everybody everything," the third-year MHS coach said.
Schroeder anticipates playing eight to 10 players in his rotation with freshmen Alex Courtney and Shawn Dailey, sophomores Derek Wright and Jake Schmalstieg and junior Robert Saxton rounding out the lineup.
With a deep rotation and a physically and mentally demanding press, Schroeder has harped on the importance of conversing on the floor, which his players plan on doing.
"We have to communicate," said Gonzlalez. "Talking is the key with this fast tempo."
McLouth, 7-15 last season, will get its first chance to show off its new style Thursday at Valley Falls in a Delaware Valley League Tournament first-round contest. The Bulldogs have had a bad habit of playing on the loser's side of the DVL bracket the past few years, and Crouse said he, Bechard and Gonzalez hope to change that.
"Us three, we're ready to win some games," Crouse said. "I think we're going to surprise some people this year."