City unveils new shop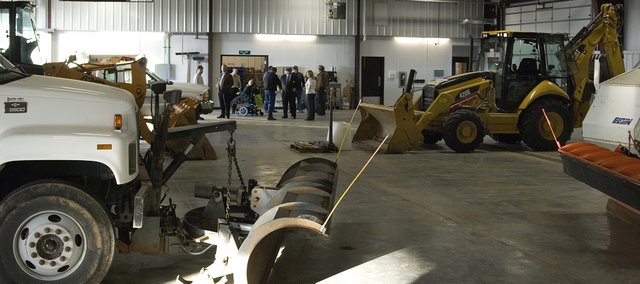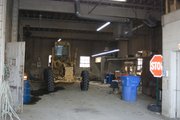 After more than 30 years on Main Street, the Tonganoxie Public Works Department finally has a new home.
Although the new facility, which is just south of Fourth Street next to the wastewater treatment plant, was completed in May, the public had its first gander at the 18,000-square-foot facility Wednesday, Nov. 26.
"It's a state-of-the-art facility, but it doesn't have a lot of frills," Tom Arpin, vice president of BG consultants, the facility's designers, said. "There is a lot more elbow room."
There are several new advantages to the new building compared to the old building, which is less than 5,000 square feet.
There are enough bays to house all of the city's vehicles and keep them out of the elements. In the old building, city crews had to park large vehicles next to the building or around town because there was no space for them.
"It will be a savings to the community in the long run primarily form protecting our equipment and securing our supplies and materials," Mike Yanez, city administrator said. "And it just gives our staff more room to work. It makes them more efficient because they have more room to work."
There is more space for equipment and parts that will allow shop workers to fix more problems with the vehicle without sending it out for repair.
The new facility has a new office for the city superintendent and a meeting room/break room for city workers.
There is a bathroom locker room and an extra room that could be used as another office, conference room or just for storage.
Besides more room, the vehicle bay also has proper drainage for the vehicles after they come in from a rainy or snowy day, an overhead water pump to fill city vehicles or fire trucks and infrared heating to keep the vehicles from freezing during the winter.
Jerry Stockman, utility manager for the department, said he and the other public works crew liked their new home and said the difference between the old and new building was like the difference between night and day.
"It's more compact and everything is in a confined area and that makes it easier," he said. "Now I don't have to travel all over town to get equipment."
He also liked that city crews would no longer have to drive large pieces of equipment onto a busy road, which has resulted in accidents through the years.
Yanez said he hopes the new facility will be able to accommodate a growing Tonganoxie for another 30 years.
The building was built by Combes Construction at a cost of $1,854,965.