Energy efficiency, space issues focus of meetings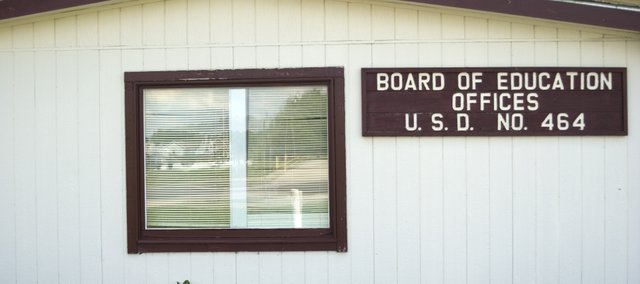 Efficiency was the topic at hand at the Nov. 24 special Tonganoxie School Board meeting at the Chieftain Room in Tonganoxie High School.
Keven Ward of Trane, which the board has selected to do an energy audit, showed a Power Point presentation about the advantages of building and maintaining schools by going green.
"Green and high performance are synonymous," Ward told the council at the meeting.
He said there has been documentation that there's better air quality in green schools, which in turn is a healthier environment, which in turn improves attendance.
Environmentally friendly schools also can be used as tools for math and science as early as elementary school. Using those aspects in the curriculum then can prepare students for rigorous math and science courses in high school, Ward said.
On the monetary side of the coin, Ward pointed out the more efficient green schools will provide savings through lower energy and maintenance costs.
Through the statutory fiscal tool, a measure the state originally passed in 2000 and most recently revised in 2007, the district can reallocate savings made through new and upgraded energy-efficient schools to the capital projects fund.
"The use of the fiscal tool allows the district to get ahead of the curve rather than get behind the curve," Ward said.
The energy audit, Ward said, is expected to be finished in February.
"We've already gathered a lot of information," Ward said.
After Ward's presentation, the board opted not to go into executive session to discuss personnel. Instead, assistant superintendent Kyle Hayden passed out a list of recommendations for personnel.
The board approved the hire of Stacy Wall as Tonganoxie Middle School math teacher and Tonganoxie High School assistant softball coach.
The board also hired Candy Haislip as TES evening custodian and Joseph Malek as TMS assistant boys basketball coach.
Coinciding with the talk of building and maintaining green schools is facility improvements for Tonganoxie Elementary School.
Following the special board meeting, the monthly TES facility improvement committee meeting was held.
Jerry McCall, consultant with Educational Consulting Services, spoke to the committee about the services ECS offers.
The school district is working toward a possible school bond election next November, as school officials say the elementary school again is overcrowded.
Discussions have centered on building some type of grade configuration on the district's 80 acres on Washington Street, the same property where Tonganoxie Middle School was built in 2006.
McCall, who is a former teacher and administrator, said ECS is all about planning for education, but that also means evaluating how other entities interact, such as the city and county. The company evaluates city and county comprehensive plans, as well as demographics, existing school facilities and future possibilities.
"We'll be as specific as you want," McCall said.
ECS also works with other companies. For example, it has worked with Trane on some projects.
"It is truly a team effort," McCall said. "You modify and adjust. Every situation is different."
McCall was asked during the meeting whether ECS, if the district hired the company, would warn the district of any pitfalls in future planning.
"Oh yes, because we've been in there, and crawled out of them," McCall said.
Good planning, he added, is crucial when it comes to building for the future.
"If you build concrete in one place, in 10 years, don't dig it up," McCall said.
If the school district does hire ECS for consulting, McCall said the estimated cost for services would be between $18,000 and $20,000.