Madrigal Feaste returns this week
"Nutcracker" to be staged Saturday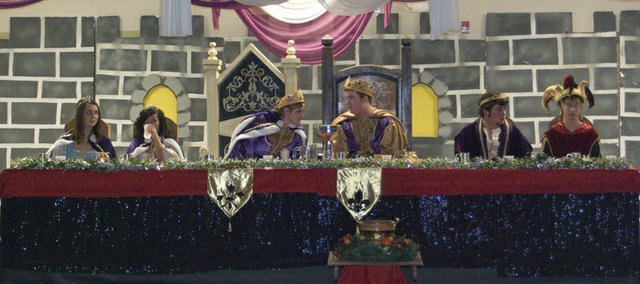 The Tonganoxie Chieftain Singers and the eighth-grade concert choir are once again sending residents back in time for their seventh annual Madrigal Feaste, to be held Friday and Saturday.
The event will once again be held at Tonganoxie Middle School.
The castle gates will open at 6 p.m. and the procession will begin at 6:30 p.m.
The outside of Tonganoxie Middle School will look as it always has, but once guests walk inside they will take that step back in time.
Known normally as the middle school's commons area, the open room down the hall from the school's main entrance transforms into a medieval court.
The event is free, but the groups ask for at least a $15 donation for each guest.
The royal court will once again treat this year's guest with food, song and all the wassail they can drink.
While the Madrigal Feaste will have two nights of entertainment, another Tonganoxie School District venue will be the site for a holiday performance.
"The Nutcracker" will be performed at 7 p.m. Saturday at the Tonganoxie Performing Arts Center.
Graves Talent Company of Tonganoxie is putting on the show, which is free to the public.