Tonganoxie man wins Gambino's contest, will be at Big 12 championship game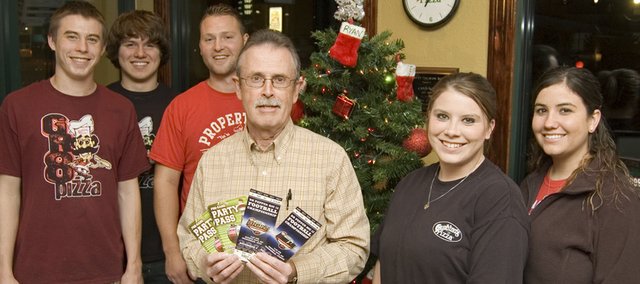 Linn Cooper was in line to enter one sporting event when he received word that he'd need to make plans for attending another.
Cooper was set to enter the turnstiles at Allen Fieldhouse for the Kansas University men's basketball team season opener when his wife called to tell him he had won tickets to see the Big 12 Conference football championship game, which is Saturday in Kansas City, Mo.
Cooper's name was one of 52 selected through the Gambino's Big 12 football sweepstakes.
For the drawing, 12 names were drawn from each of the 58 Gambino's restaurants that dot Nebraska, Kansas, Texas, Oklahoma and Missouri.
The Gambino's restaurant in Tonganoxie had weekly drawings for free pizzas. Cooper, a frequent customer, had his name drawn for one of those free pizzas.
On Saturday, he'll have even more complimentary food. As part of the sweepstakes package, Cooper received two tickets to the Big 12 championship game between Oklahoma and Missouri at Arrowhead Stadium. He also received two party passes to a select tent where free food and drink will be offered.
Cooper said his son, Shane, would join him for the excursion.
Gambino's conducts the sweepstakes each year. Cooper said he put his name in the drawing last year, but didn't win tickets to the game, which was in San Antonio. Oklahoma defeated Missouri in that game and is favored to defeat the Tigers again this season.
This year's game, at Kansas City, Mo., is much closer for Cooper to attend.
"I just went ahead," Cooper said about continuing to put his name in the drawing box this year. "I got lucky."
Rachel Calhoon, manager of the Tonganoxie Gambino's, said it's the first time anyone from the local Gambino's has won the prize package.
"It's just fun when it's customers we know and walk through the door all the time," Calhoon said.