Bigger, stronger, hungrier
Tonganoxie senior grapplers plan to 'go big or go home'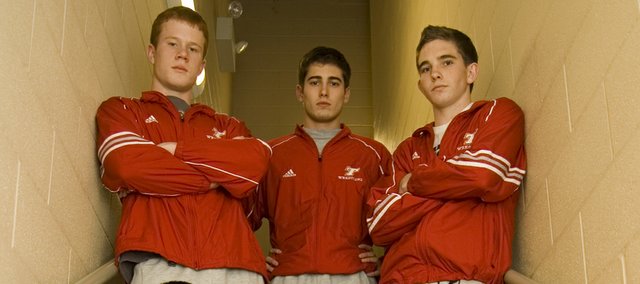 In February, three Chieftain juniors qualified for the Class 4A State Wrestling Tournament in Salina and nabbed a sniff of glory.
Nine months later, the Tonganoxie High grapplers — Matt Brock, Steve Davis and Kevin Hamm — are seniors. They're bigger. They're stronger. And they're hungrier.
All of which has their coach, Jeremy Goebel, excited about this year.
"Those guys lead by example," Goebel said. "Each one of them has a goal they want to accomplish by the end of the season."
Davis and Hamm went to the tourney. Now they want to medal. Brock finished fourth, now he is thinking championship.
Goebel said not only are the goals reasonable, but he wants each of them competing for a state crown this season now that they know what the state tournament is all about.
The wrestlers realize they have a lot of work to do to get to that point in 2009, but they are more than ready to do whatever it takes.
"We're really pumped for this season, in general," Davis said. "It's our senior year — go big or go home."
All three returning state qualifiers took that motto to heart during the offseason. Brock jumped up two weight classes, from 130 to 140, Davis is moving up to 189 from 171 and Hamm, who was 119 as a junior, now will compete was 119 as a junior, now will compete at 145. They accomplished that by working together, going to wrestling camp, competing with each other and, of course, lifting weights.
Joined by fellow seniors Robert Brotherton (145), Jon Harris (135) and Blaize Oelschlaeger (152), the three are now ready to lead their team this season.
"That group of seniors," Goebel said, "really lets the kids know what they need to do."
Added Brock: "They can expect that we're going to push ourselves and we're going to push them, too."
After taking six grapplers to state in '08, which tied a THS record, the seniors hope to break that mark come February.
Goebel thought it was a great goal to set, and knew that was the team's mind-set heading into this season. He said they have a lot of fine-tuning to do, but the work ethic and dedication appears to be there. Ultimately, the coach opined, the Chieftains might have to beat some opponents they aren't expected to, but that is part of improving the program.
The returning state qualifiers aren't the only wrestlers primed for success this year either. Goebel expects a lot from a few of his juniors — Austen Holloway, a 185-pounder giving up some weight at the 215 class, Jeremie Maus (171) and Jeremy Elliott (160).
"That kid's the poster child for our wrestling program," Goebel said of Elliott, praising him for his patience while wrestling at the junior varsity level the past two years behind varsity starter Wyatt Coffin.
The coach said now Elliott has a chance as a relative unknown to get in the lineup and make an immediate impact.
Sophomore Vinnie Angell, competing at 135, should be effective, Goebel said, as will freshman Caleb Himpel (119).
"Everyone who gets in that varsity lineup I expect big things from," Goebel said, noting that although the youngest grapplers have a big learning curve, they should contribute by the end of the season.
Preseason rankings
The Kansas Wrestling Coaches Association listed Brock and Davis in its Preseason Class 4A rankings this year.
The KWCA had Brock third at 135 and Davis sixth at 171, but each will actually be wrestling at a higher weight class this year — Brock at 140 and Davis at 189.
Davis said eclipsing that ranking would mean a great deal to him.
"I guess I'm expected to be sixth, but I like to think I'm going to do better," Davis said. "I'd rather be ranked lower and work my way to the top."
Brock, too, hopes to better his preseason projection.
"They had me ranked sixth last year and I got fourth, so maybe since they've got me third this year, I'll get first," he said with a laugh.