Chieftain wrestlers 3rd at
KVL

duals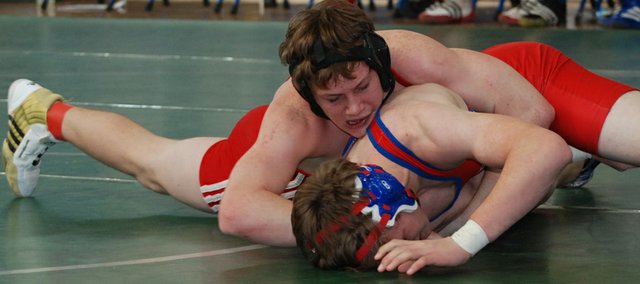 With a few new faces and some old faces in various new weight classes, things didn't look too different for the Tonganoxie High wrestling team when it made its season debut Saturday at the Kaw Valley League dual meet at Perry-Lecompton.
The Chieftains took third, going 4-1 in duals, which is exactly the same place they finished at the KVL event last season.
THS coach Jeremy Goebel said the great thing about taking third at the meet was that they did so with a number of new grapplers in the Chieftains' lineup. Although the team graduated a talented senior class last season, including state medalists Cameron and Travis Adcox, it appears, so far, that the program hasn't lost a step.
A pair of Chieftains went undefeated at Perry. Senior leader Steve Davis, wrestling at 189 after competing at 171 his junior year, went 5-0. Perhaps even more impressive, however, that record was matched by junior Jeremy Elliott (160), a first-time varsity starter. But Elliott's performance didn't surprise Goebel.
"I expected him to go there and do that well and I expect that the whole year," the coach said, calling Elliott a tough worker.
Sophomore Vinnie Angell (135) went 4-1 at the meet, as did juniors Austen Holloway (215) and Jeremie Maus (171) and seniors Matt Brock (140) and Kevin Hamm (145), both wrestling at higher weights this year.
Goebel said there were some nerves for the team's first outing of the season as some grapplers didn't know what to expect, but he wasn't concerned because the Chieftains have a whole season to work on little things than need some repairing.
Still, THS managed to win four duals against KVL foes, defeating Bishop Ward, 72-6, Bonner Springs, 54-16, Perry-Lecompton, 42-37, and Turner, 39-39, by way of a tie-breaker — the Chieftains had five pins, the Kaws had four. The team's only loss came to Santa Fe Trail, 43-36.
In the dual with host PLHS, Goebel said he was especially proud of his team. The Chieftains started in a pretty big hole after losing four of the first five matches. But Tonganoxie rallied for a victory as Brock, Elliott, Maus, Davis and Holloway picked up victories by pinning their PLHS opponents.
"It showed a lot of character," Goebel said. "We could've easily said, 'We can't win this dual.'"
Maus led THS with seven takedowns at Perry. Angell and Hamm each had four victories by pinfall.
The Chieftains have another big meet this Thursday and Friday when they head to Eudora for a tournament. Goebel said the wrestlers have to be focused because it will be a tough field and nobody wants to leave there with four losses on his record.
THS individual records to date
103 — Hunter Lohr 5-2
103 — Adam Thomas 1-1
112 — Danielle Mann 0-0
119 — Caleb Himpel 1-4
119 — Anthony Baker 2-0
125 — Justin Crotty 1-4
125 — Justin Soetart 0-0
125 — Derrick Wright 0-2
130 — Tyler Hand 2-3
135 — Vinnie Angell 4-1
140 — Matt Brock 4-1
145 — Kevin Hamm 4-1
145 — Robert Brotherton 1-1
145 — Shane Starcher 2-0
152 — Jon Harris 2-1
152 — Joao Martins 0-2
152 — Blaize Oeschaleger 1-1
152 — Riley Banks 0-2
160 — Jeremy Elliott 5-0
160 — Jason Husing 0-2
160 — Ty McEachron 0-0
171— Jeremie Maus 4-1
171 — Mark Columbel 0-2
189 — Steve Davis 5-0
189 — Gage Gardner 1-1
189 — Jonas Myers 2-0
215 — Austen Holloway 4-1
285 — Hank Somers 2-3
285 — Eric Lucas 1-1