McLouth offense searches for points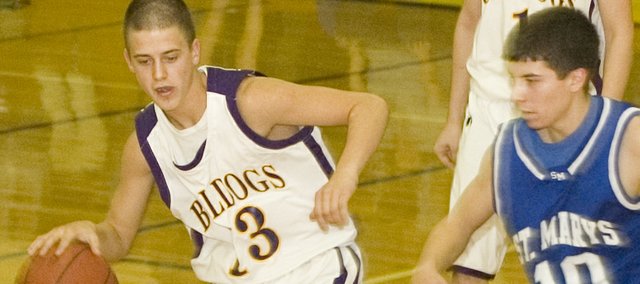 After a relatively cordial first period, the iron wasn't just unkind for the final 24 minutes of hoops, it was cold-blooded, malevolent and downright evil — to one team at least.
The McLouth High boys basketball squad scored more points in the first quarter than it did in the final three periods combined and only converted one second-half field goal as the Bulldogs fell to St. Marys, 63-20, in their home opener Friday night.
MHS junior point guard Cole Batman drained a three-pointer over a Bears defender at the buzzer to end the first quarter, giving the Bulldogs 14 points. However, scoring seemed nearly impossible for McLouth after that.
Batman, who finished with 13 points, was the only Bulldog to score in the final three quarters, converting three free throws in the second quarter and scoring a layup and hitting one more freebie in the third. MHS didn't tally a single point in the fourth quarter with the Bears up 30, which meant a running clock.
While McLouth (0-2 after a 67-46 loss at Valley Falls on Thursday) searched for buckets, St. Marys found easy work inside through its big man, junior forward Luke Eakes, who used his broad shoulders and soft touch around the basket to score 24 points.
Bulldogs coach Jason Schroeder said the seemingly unmovable big was effective because he got the ball deep and would use a power dribble to move MHS defenders out of his way.
"We were late on our help-side (defense) every time," Schroeder said.
Batman said Eakes was a tough customer and the team learned an early-season lesson about defending the paint against a capable big man.
"We've just got to have better back-side help," he said. "Can't let him get the ball."
Schroeder called the loss a "learning experience" for MHS on many fronts.
"We need to get our guys in the weight room and be stronger," he said. "That team was bigger, faster and stronger."
The coach told his team afterward that such a setback was part of the growing process and Batman said the Bulldogs need to learn from their mistakes.
"They've got some tall kids," the 5-7 guard said, "but we didn't execute the way we should've."
Offensive production is one major area in need of improvement. Schroeder said his players were too impatient in the offense and not looking for cutters.
"Our guards, and all our players in general, they just need to learn how to be patient on the perimeter," he said.
Nothing seemed to be working. Sometimes the ball was swung too soon, other times cutters didn't see the passes. But Schroeder said it is his duty as a coach to make sure the team stays positive.
"The main thing is that we stay together and the seniors continue to help and learn to trust the freshmen, and the freshmen continue to play better and trust the seniors," Schroeder said, stressing that MHS needs to be a complete team.
McLouth's three seniors all scored in the first quarter before the team went through one 10:14 field-goal drought, which was followed by a longer 13:46 field-goal spell to finish the contest. Jarrod Bechard scored four points, Vinny Gonzalez added two more and Derrick Crouse hit a free throw.