Threes, second chances doom Bulldogs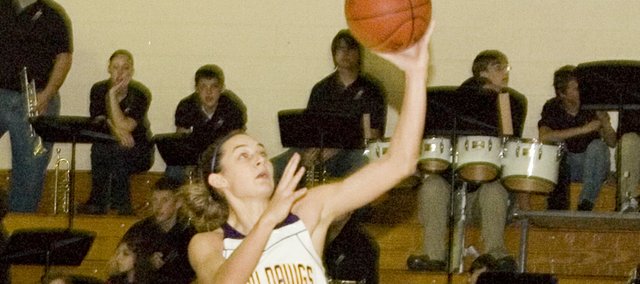 With one of its most formidable opponents on the schedule visiting Friday, the McLouth High girls basketball team could hardly afford many miscues.
Despite 26 points from versatile junior guard Missy Rome, team rebounding and perimeter defense proved troublesome for the Bulldogs as they lost their home opener to St. Marys, 65-39.
MHS coach Todd Cossman lamented the Bears' ability to score against McLouth on offensive rebounds and from three-point range.
"Those were the two things," he said. "We either gave up bunnies on rebounds, off putbacks, or we gave up threes. If we got a rebound and got it down the court, we could play with them."
Those opportunities didn't come often as St. Marys (1-0) ran away from McLouth, which also was plagued by turnovers, in the second and third quarters following a 12-9 SMHS advantage in the first period. The Bears repeatedly drained three-pointers — getting 11 treys from five different players — on their way to victory.
"There won't be another team that we play for a while that has five players who can flat out shoot the basketball," Cossman said, adding that he thinks SMHS will be one of the toughest teams the Bulldogs play until sub-state in March.
While Rome had a stellar night against St. Marys, outscoring SMHS senior guard Laura Kinderknecht, who signed a letter of intent with Washburn University, 26-18, while going 11-for-18 from the floor and making four threes, only two other Bulldogs shared the scoring load — junior Cassidy Bristol scored eight and junior Kylie Shufflebarger added five.
"You're not going to win when you only have three people score," Cossman said, noting his team needs to take better care of the ball and get it inside because when McLouth's starting posts — Bristol and Shufflebarger — got touches down low, they got high-percentage shots or drew fouls.
"We've got to do a better job of getting the ball to the players who can score, and some of our other players have to be able to step up and take a shot," the coach said.
Rome, who also had five steals, admitted it was tough to win when she is scoring two-thirds of McLouth's points.
"We've just got to support everyone," Rome said. "I score a lot, but I try to make everything even and keep everyone happy."
The junior said her offensive mind-set is to do what is best for the team.
"I try to get everybody into it, but if it's not working, I just try to take over," she said. "Mainly I just attack, pass it out or hit my posts."
Her coach said the Bulldogs would count on Rome to stay aggressive every game this season.
"She's an all-state caliber basketball player," Cossman said. "You can see her do that every night. I think she's one of the best guards in the state."
Bristol went 6-for-8 on free throws in the loss and grabbed seven rebounds. Shufflebarger had six boards.
Bulldogs fall to Horton
McLouth lost to Horton, 53-40, in its Delaware Valley League Tournament opener on Monday at Oskaloosa.
Rome scored 22 points for MHS. Shufflebarger had 10 and Bristol added eight.
The Bulldogs (0-2) will play Doniphan West at 8 p.m. Thursday in the DVL consolation bracket.