Crooners turn back time again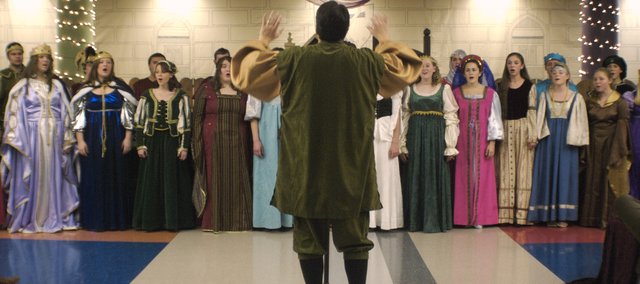 Photo Gallery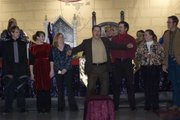 2008 Madrigal Feaste
The Tonganoxie High School Chieftain Singers along with the eighth-grade choir sing in this medieval performance.
Last year Erin Sours had to lean over to catch a glimpse of the king and queen sitting among the royal court.
But this year, it was her turn to sit in the big chair, and now she knows the view is much nicer from the throne.
"It feels good to be the queen," Sours said. "All of the little peasant people get to serve us and we get to tell them if we want more food or drinks and stuff. It's awesome."
Sours was joined by her king, Seth Bohanon, as they presided over the seventh annual Madrigal Feaste held Friday and Saturday nights at Tonganoxie Middle School.
The TMS commons area was transformed into a medieval court filled with lords, ladies, knights and a jester as the middle school eighth-grade choir and the Tonganoxie High School Chieftain Singers celebrated the holidays with food, drink and song.
Guests once again were invited to partake in scrumptious period dishes such as rosta wilde boare (ham steak) served with streng bene eke almande (string beans with almonds) and rosta botata (roasted potatoes).
And to wash it all down, guests were treated to warm coppes (cups) of wasseyle (wassail).
Throughout the evening, the 35-member choir performed for the audience and at times asked the audience to participate.
Tom Gifford, the high school choir director, said this year they expanded the script for a better show.
"There was a story interwoven from beginning to end," Gifford said. "I think that helped make it more of a complete show."
Overall Gifford said the show went well despite a few hiccups before the event.
The Chieftain Singers added 12 more students to its roster, which meant additional seating was needed for the royal court. And just days before the show started, Gifford said the fire marshal told the director that they could not use an open flame inside the school. To get a more authentic candlelit dinning area, Gifford's wife found some battery-operated candles that did the trick.
As for this year's king, Bohanon said he was glad he was able to sing the part of the five golden rings with his dad during the "Twelve Days of Christmas" for the fourth year in a row.
"I'm a senior, so I'm glad I got to go out with a bang," he said. "It's just really fun other than the whole costume thing — it's really hot."
Gifford said he was thankful for Carolyn Day coordinating the event, and for the help from all of the parent volunteers.
More like this story