Crowd braves cold for downtown lighting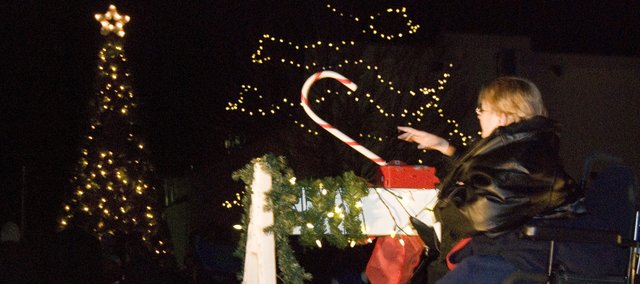 A shivering crowd gathered on Fourth Street Thursday night, waiting to participate in a 24-year-old Tonganoxie tradition.
The temperature was low, but spirits were high as Tonganoxie Mayor Mike Vestal flipped the candy-cane switch and lit up downtown.
"We had a really great turnout for as cold as it was — and it was frigid," Vestal said. "It's a beautiful downtown."
For a second year, the City of Tonganoxie has made the open space between Bitler's BBQ and Richard Dean's office the home for the Mayor's Christmas Tree. It was previously held at the VFW Park.
After the downtown lights came to life, the crowd began to sing "Santa Claus is Coming to Town" in hopes of getting St. Nick himself to make an appearance. The crowd wasn't disappointed, because in a matter of moments Santa, riding on a Tonganoxie fire truck, made his way to the local children.
Instead of heading to Ratliff's Drug Store, however, Santa sauntered to the Tonganoxie Public Library to get gift requests from the children.
Royce Kitts, the library director, said he was pleased Santa Claus was able to come to the library, which was simultaneously holding its Festival of Mini Trees fundraiser.
"We had a packed building and bids on all of our trees," he said. "For us, it was a complete success. Next year we want to continue to build on what we've started and try to make it bigger and better."
He said with the money collected from the auction, the library would be able to buy puzzles, games and new carpet for the children's section.
Cheryl Hanback, executive director of the Tonganoxie Chamber of Commerce, which sponsored the event, said this year's event went well, but promised it will be even better next year.
She wanted to thank everyone who helped, including the Tonganoxie Jazz Band, Tonganoxie Elementary School and the dancers from Graves Talent and Dance studio.
"It takes a great community effort to pull it all together," she said.
In the off-season, the 18-foot-tall tree is stored at the city's wastewater treatment plant. In October of 2007, the Tonganoxie City Council voted to purchase an artificial tree for $5,144. The cost included replacement bulbs and shipping.
– 6 News Lawrence reporter Mark Boyle contributed to this story.