Unique
MHS

band to play benefit gig Monday night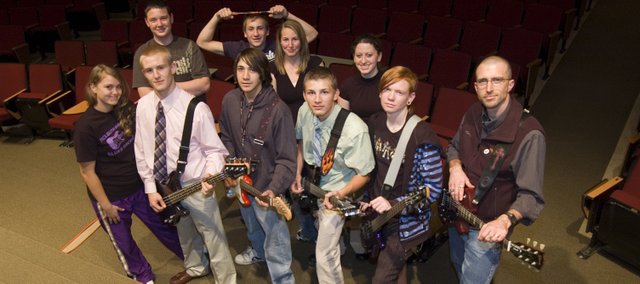 McLouth has its own "School of Rock."
McLouth High School music instructor Michael Brandel might not exactly be Jack Black's character in the 2003 hit movie, but Brandel is leading a select group of MHS students that is psyched about music.
The McLouth Blues Orchestra Band actually is a class at MHS, as nine students who take the course also perform outside class periods.
"Its technical name is blues orchestra, which is tongue-in-check because blues is the foundation of rock and roll," Brandel said jokingly. "If I call it the blues orchestra, it will have a sense of sophistication."
There actually are eight musicians in the class, with the ninth — senior Amanda Friesz, serving as stage manager, Brandel said.
This is the second year for the class, which already performed a Halloween concert this school year.
"We played 'Enter Sandman' by Metallica, which is kind of a scary song," Brandel said.
The band's concerts have taken on the feel of a rock concert — students danced in the area between the stage and seating at the MHS auditorium and have brought glow sticks to the concerts.
At one point during the last concert, junior drummer Cody Winborn broke his sticks. He threw the suddenly useless equipment into the crowd, creating a frenzied reaction.
A special event
The band, which unofficially is called McLouth's Own Rock Band, will play at 7 p.m. Monday at the school's auditorium.
Free-will donations will be taken at the door and proceeds from the concert will be given to the McLouth Ministerial Alliance, to be used for its assistance fund to help people in the community who are in need.
"It's a weird time economically, but it's an even weirder time for people who don't have anything," Brandel said.
In its first year, the band played seasonal concerts — Halloween, Christmas, Valentine's Day, to name a few — and also played at a school dance. Brandel said he's looking into making every concert a benefit concert.
"I'm toying with making all of them that way," Brandel said. "It's a good use of our skills."
The playlist
Junior Mikayla McHenry, lead vocalist for the group, rattled off some of the songs the band will be performing at its holiday concert: Metallica's "Enter Sandman," Heart's "What About Love," Bon Jovi's "Wanted Dead or Alive" and Black Sabbath's "Ironman."
The band also will perform Pat Benatar's "Heartbreaker," which McHenry said is her favorite. Christmas songs, such as "Rockin' Around the Christmas Tree" and "Carol of the Bells," will be performed.
Brandel said McHenry definitely is the group's lead singer.
"And the rest of us kind of dork around," said Brandel, who also plays in the band. "We try to dork around in harmony, but she's the lead singer. She's very deserving of that title."
It's usually a given that a school will have three core bands: marching, pep and concert. But it's not every day a school offers a blues orchestra class. According to the members in this MHS band, they're a rarity.
"It's a chance of a lifetime really," said freshman guitarist Nate Friesz, who is Amanda's brother. "Not everybody does it."
Some in the band, senior guitarist Saul Hernandez, for example, hope to one day make a career out of their love for music.
"Because music is my passion," Hernandez said. "I love playing. We love doing what we do."
Nate Friez hopes to continue playing in college, preferably at Kansas University.
"I want to do marching band in college, or bass guitar in college," he said. "I would like to go to KU. We've had a lot of people go to KU."
In the meantime, the members of this class/band are having fun playing in front of hometown audiences.
"We love fans," said sophomore bass guitarist Adam Gray.