Chieftains defeat Piper for 3rd at invite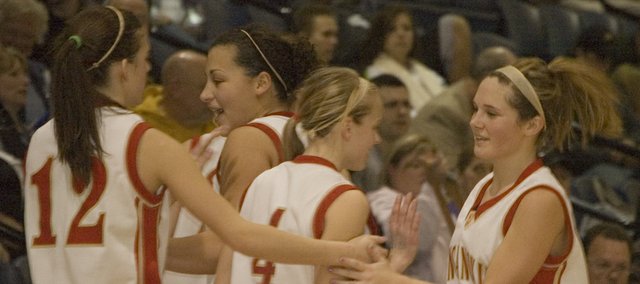 Eudora — With the game on the line Thursday night at Eudora, Chieftains senior Roni Grizzle turned the switch to aggressive.
Trailing Piper by two after three quarters, the Tonganoxie High girls basketball team needed a boost and Grizzle delivered in the form of 10 fourth-quarter points as THS picked up a 45-38 victory.
Grizzle scored Tonganoxie's first seven points in the fourth quarter and finished the contest — the third-place game in the Cardinal Invitational — with 19.
A Grizzle steal and layup with 2:58 remaining gave THS (2-1) a brief 35-34 lead. Following a Piper basket, Abby Eisman hit a free throw to tie the game before the Chieftains took the lead for good on another inside bucket from Grizzle with 1:51 to go.
Junior guard Andie Jeannin (11 points) went 4-for-4 from the free-throw line, and Lauren Hall hit two of two from the charity stripe in the final 70 seconds to seal the win.
Just seven players dressed and only six played for Tonganoxie, which had four of its varsity players — Lindsey Fatherley, Molly O'Hagan, Jessi Stinson and Madi Yates — sidelined with injuries.
THS will open its home schedule on Tuesday when the Chieftains play host to Perry-Lecompton at 6 p.m.
Score by quarters
Piper 6 16 8 8 — 38
Tonganoxie 12 9 7 17 — 45
Tonganoxie scoring:
Lauren Hall 0-4 2-2 2, Andie Jeannin 3-9 4-4 11, Roni Grizzle 6-9 7-10 19, Abby Eisman 1-2 1-2 3, Chrissie Jeannin 3-12 1-2 8, Haley Smith 1-3 0-1 2.
For more on Tonganoxie's third-place finish at the Eudora tourney, see the Dec. 17 print edition of The Mirror.