Chieftains defeat Wellsville for first win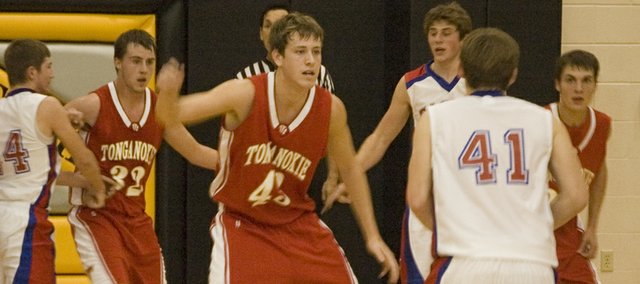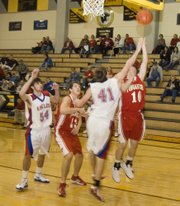 Paola — Trailing by three in the middle of a stagnant second quarter, the Tonganoxie High boys basketball team, led by junior forward Keaton Schaffer, shot out of the doldrums for its first victory of the season, a 52-37 win against Wellsville in the seventh-place game at the Paola Invitational.
Schaffer went on a personal 8-1 run against the Eagles to end the second quarter and give the Chieftains a four-point halftime lead and momentum on Friday afternoon by scoring a layup in traffic, hitting a technical free throw, draining a three from the right wing and slicing to the rim for another lay-in just before time expired in the first half.
That burst gave Tonganoxie a boost heading into the game-changing third quarter when the Chieftains (1-2) outscored the Eagles, 21-7.
The second half started the way the previous one ended — with Schaffer (21 points, five rebounds, four assists) attacking the paint. He drew a foul and converted two free throws on the first THS possession and scored a layup the next time down the floor.
A Jamie Everett jumper from the right elbow gave Tonganoxie a 26-19 lead, which expanded to an 11-point advantage once Schaffer and Jeremy Carlisle scored transition layups off passes from one another on the next few trips up the floor.
After getting one of his three third-quarter blocked shots, Brandon Yoder ran the floor, received a no-look pass from Carlisle (seven assists) and converted a finger roll to make the score 32-21. Senior pivot Austin Smith, who finished the game with 13 points and eight rebounds, scored in the paint, drew a foul and hit his free throw to give THS a 14-point lead.
Tonganoxie will play host to Perry-Lecompton on Tuesday at 7:30 p.m.
Score by quarters
Tonganoxie 10 10 21 11 — 52
Wellsville 11 5 7 14 — 37
Tonganoxie scoring:
Jeremy Carlisle 1-2 2-2 4, Jace Waters 0-0 2-3 2, Jamie Everett 3-7 0-1 6, Keaton Schaffer 8-14 4-6 21, Austin Smith6-8 1-1 13, Dylan Scates 0-4 0-0 0, Brandon Yoder 1-6 1-3 3, Rob Schlicht 1-3 0-0 3.