Bulldogs hope to improve during prolonged break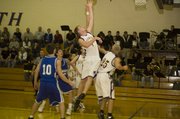 Sitting at 0-4 with no chance to better that mark for nearly three weeks, the McLouth High boys basketball team is in a peculiar spot.
After dropping its first two contests by a combined 64 points, the Bulldogs were much more competitive in a pair of losses this past week, falling to Immaculata, 59-51, and Jackson Heights, 59-46, at the Delaware Valley League Tournament in Oskaloosa.
Senior forward Jarrod Bechard led the Bulldogs with 16 points against Immaculata, and senior forward Derrick Crouse scored 14, as did junior point guard Cole Batman. In the JHHS setback, Batman led MHS scorers with 19 and Crouse added 17.
MHS coach Jason Schroeder said the young team is just finding its footing.
"Unfortunately, the season has not started off the way that we would have hoped, however, we knew that this season was going to be tough for us," Schroeder said, noting that the team plays three freshmen — Alex Courtney, Alen Kramer and Gavin Swearngin — significant minutes.
In a perfect world, McLouth would continue to learn on the fly, but the upcoming holiday break gives the team a huge hole in the schedule and the Bulldogs won't take the floor for a live game again until Jan. 6. Schroeder said he hopes the Bulldogs will remain in shape during the interruption by working hard at practice, assuming "they don't eat too much Christmas dinner and pie over the break." The coach said he will remedy that and rustiness by allowing more scrimmage time at practices and trying to simulate game situations to "keep their legs and brains in game-shape."
Looking to put early-season struggles behind them, Schroeder said the extended break should be nothing but a positive experience for the Bulldogs.
"I think that this break can only help us to improve as a basketball team," he said. "We have learned a lot about ourselves as a team and as individuals during the first four games."
Moreover, McLouth's players really found some positives in their two most recent contests, Schroeder pointed out, noting the team's improved competitiveness.
"In the second half against Immaculata and Jackson Heights we played with some fire in our bellies and fought for rebounds," he said. "We sprinted to the spots on defense and we were more aggressive on the offensive end of the court."
The coach said he also was happy with Crouse's emergence this past week, saying the senior "took charge" on offense and defense.
Now, the next step is picking up a victory. Schroeder said MHS needs to play solid basketball for 32 minutes in order for that to happen.
"Thus far this season, in the first half of games, we have given up 34, 42, 29 and 35 points," he said. "That kind of defensive effort is unacceptable. We must improve our defense and our defensive rebounding."
The main thing the Bulldogs can't afford to do, the coach said, was get down on themselves because of the 0-4 start. Schroeder said the team needs to remember the saying assistant coach Perry Lockwood introduced to them:
"If you are driven by success, then you will stop at failure. If you have the drive to succeed, then you will stop at nothing to achieve your goals."
McLouth will resume its season in the new year at 7:30 p.m. Jan. 6 when the team travels to Shawnee to take on Maranatha Academy.