Christmas past comes alive again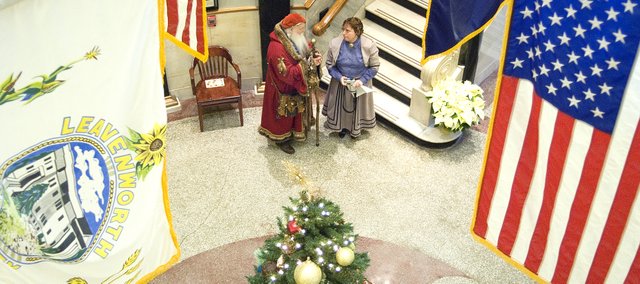 When Michael Meyer was asked to play a historical figure who had ties to Leavenworth County, he didn't think it was going to be someone in his family.
The retired teacher from the Kansas City, Kan., school district, now part-time employee at the Leavenworth County Justice Center, was asked to represent the prison guards during the late 1950s and early 1960s at the Kansas State Penitentiary in Lansing. For Meyers this meant putting on his stepdad's old uniform.
"You never look at your parents as historic figures," Meyers said about Don Meyer. "But they convinced me that I could do this and more or less represent all of the guards that were in that era."
Meyers, along with nine other county employees, county residents and some professional storytellers got into character, donned historical clothing and relived area history during the 2008 Christmas Open House.
This year's open house had a different setup than in previous years.
Keyta Kelly, Leavenworth County attorney-at-large and chair of the open house committee, said she wanted to have performances throughout the afternoon and evening instead of one nightly performance to allow more people time to see the show.
"It helped the older people," she said. "They could get home in the light and not have to drive in the dark."
In this year's performance, Kelly reprised the role of Hilda Clark, a former Coca-Cola model.
The earlier times not only helped older residents enjoy the performances, but also allowed Karen Miller's fourth-graders from Earl Lawson Elementary to come and watch.
"It was cool," said 9-year-old Dustin Streetman.
Around 120 people attended the three performances at the open house, about 80 fewer people less than last year.
While the performers had a great time reliving Christmas past, the Christmas future of the open house is still unknown.
In September, the Board of County Commissioners was reluctant to spend an additional $2,508 for the annual event and it was reluctant to pay some of the county employees who volunteered for the event. At one point they expressed their thoughts to call the whole thing off and give grant money back to the Kansas Humanities Council.
After a few days of discussion, commissioners unanimously voted in favor of spending the money because they were so far along into planning the event.
If the open house does come back, some of the performers such as Meyers and Mary Ward, who made her debut performance as Mother Xavier Ross, founder of the Sisters of Charity of Leavenworth, St. Mary's College, St. John's Hospital and the Leavenworth Catholic School Systems, would be happy to return.
"If someone's not telling their stories then their stories die," Ward said.