KDOT

awards city $250,000 in federal funds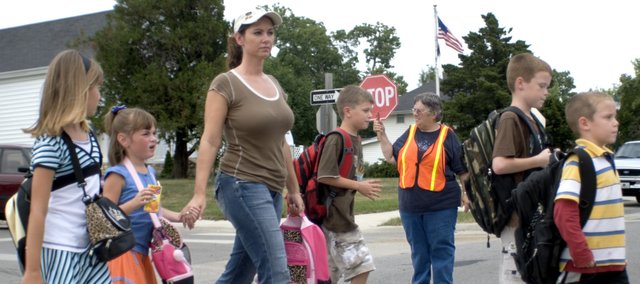 Walking to school in Tonganoxie might soon be getting a lot easier and a lot safer soon.
On Friday, Tonganoxie city officials received notice that the Kansas Department of Transportation has awarded the city $250,000 in grant money for the Safe Routes to School program.
"It was such a nice surprise," said Jill Dickerson, Tonganoxie Middle School principal. "Any incoming funding in a time where we don't know what we are going to hear form the state, this is good news."
Tonganoxie was one of four cities chosen out of a pool of 22 candidates statewide vying for the $1 million in available funds.
The city and the Tonganoxie School District will use the money to fulfill the five Es of the Safe Routes to School program: engineering, education, enforcement, encouragement and evaluation.
In the submitted Safe Routes to School plan, the city planned on certain street and sidewalk improvements, including speed tables (which are similar to speed bumps) for traffic calming, construction of new sidewalks to connect with existing sidewalks around Tonganoxie Elementary School and making pedestrian crossing to the middle school safer.
The plan also included a section that focused on educating students on safe ways to commute to and from school while walking or biking. It mentioned integrating this education into the curriculum of the elementary and middle schools without interfering with the district's core curriculum. It also mentioned organizing a bike rodeo that would be held by a knowledgeable instructor.
"That's the goal of the whole program," said Kevin Kokes, project manager for Bucher Willis and Ratliff's community-planning group, which helped the district and the city prepare the proposal to KDOT. "Not just funding infrastructure, but to teach the safety issues and teach kids what is a good thing to do versus things that aren't going to be safe."
The BWR plan also called for not only the school and the city involvement, but to get the community involved. In the plan was a need to develop a walking school bus and a bike train. The bus and train would consist of a parent leading a group of children to school and back.
To enforce all of this the plan called for a new school resource officer.
Kathy Bard, assistant city administrator, said the city had originally budgeted enough money to hire another full-time officer, but now grant money will be used for an officer who will act as a school resources officer during the school year and a regular Tonganoxie Police officer during the summer.
Becky Pepper, KDOT's Kansas Bicycle and Pedestrian coordinator, said when KDOT officials met in late October with city and school leaders to discuss their proposal, she was impressed with some of the progress Tonganoxie had already made encouraging students to walk or bike to school
"They addressed that they have some traffic issues with dropping off and picking up of kids at the school," Pepper said. "As a way to address the issue, they were looking to get more kids walking and biking as opposed to specific engineering components that could make it easier for parents to drive kids to school."
The $250,000 in grant money is essentially seed money that will fund the program for one year. After that, it will be up to the city and the school district to share the cost of continuing the program.
Superintendent Richard Erickson said he was confident this would be able to be accomplished, citing instances in which the city and school district have worked together, such as giving up land for the new skate park and developing a sidewalk along Pleasant Street.
"I think we've had a good relationship with the city and I want to continue with that relationship," he said. "I really appreciate Kathy (Bard) and Mike (Yanez, city administrator) and obviously the city council and how they have worked with the school district in these joint efforts. This is a great example of a way we can work together."
City staff will meet with KDOT officials to finalize any agreements. Bard and Kokes said they are hoping to be able to implement the program as soon as the beginning of the 2009-10 school year.