MADD

recognizes local officer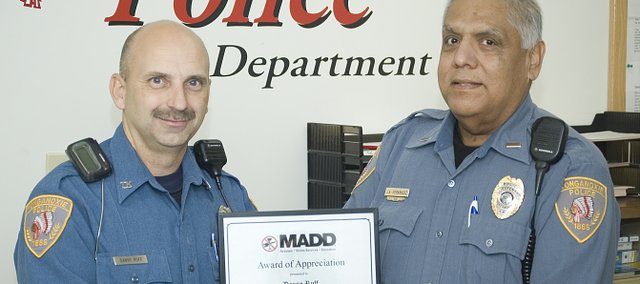 Tonganoxie Police officer Danny Ruff had no qualms accepting saltwater taffy from Lt. Tony Hernandez.
Hernandez brought the candy back to Tonganoxie from vacation in Branson, Mo.
Saltwater taffy is Ruff's favorite candy, but he also was appreciative of the award that triggered Hernandez's purchase in Missouri.
Ruff was selected for the Mothers Against Drunk Driving award of appreciation.
At the time the award was presented, in late November, Ruff had issued 35 citations for driving under the influence in 2008. In 2007, he had 60.
Ruff said it helps that he often works at night.
"I feel honored to get this award," Ruff said. "Lt. Hernandez was a big part in getting this award for me."
Hernandez also noted after the presentation that officer Steve Hawkins had made 176 traffic enforcements this year, while part-time officer Larry Shepek had 123.
"All of our officers have done a great job with traffic and enforcement," Hernandez said. "They're saving lives."