Tonganoxie splits Senior Night duals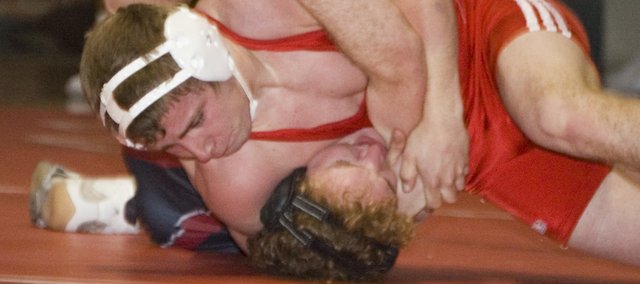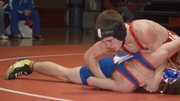 Call it a senior split.
The Tonganoxie High wrestling team lost its first dual on Senior Night Thursday, falling, 44-33, to visiting Santa Fe Trail.
The Chieftains won six of the 14 matches against SFTHS as junior Justin Crotty (125), sophomore Justin Soetaert (130), senior Jon Harris (135), senior Matt Brock (140), junior Jeremy Elliott — a last-second sub at 171 — and senior Steve Davis (189) scored victories.
The wrestlers had a much easier go of it, however, in their second dual against Ottawa.
Tonganoxie racked up 36 points from Ottawa's open weight classes alone and went 6-2 in individual matches versus OHS to score a 70-12 victory.
Senior Blaize Oelschlaeger, Brock, Crotty and Davis won by pinfalls, while senior Kevin Hamm (145) and Elliott each scored a victory by decision.
THS is now 5-2 in duals. Tonganoxie will play host to the 2008 Randy Starcher Memorial Wrestling Tournament on Saturday beginning at 9 a.m.
Visit www.tonganoxiemirror.com on Saturday for photos and results and pick up the Dec. 23 print edition of The Mirror for more coverage of Tonganoxie wrestling.