Grapplers enjoy Senior Night
Photo Gallery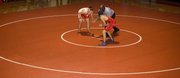 Tonganoxie High wrestling Senior Night
The Chieftains split a pair of duals with visiting Santa Fe Trail and Ottawa on Thursday night at THS.
It was a bit of an early sendoff for a group of grapplers Thursday night.
When Tonganoxie High honored its six wrestling seniors in between a pair of duals, the Chieftain careers of Matt Brock, Robert Brotherton, Kevin Hamm, Jon Harris, Blaize Oelschlaeger and Steve Davis were all far from over — Tonganoxie's regular-season finale was still eight weeks away at that point. But that didn't make the evening any less important for the THS upperclassmen.
After a narrow loss to a talented Santa Fe Trail squad, the Chieftains bounced back for a lopsided defeat of Ottawa to end the night on a high note.
"It was awesome," said the 189-pound Davis, citing good crowd support and live electric guitar making for a superior senior sendoff.
The only downfall, Davis said, was the 44-33 loss to SFTHS.
Hamm (145) said the team was happy to bounce back quickly with a 70-12 victory against OHS.
"It's pretty important," Hamm said of showing well on Senior Night. "It's the last home event we're ever going to have here and we just want to come out and do our best."
Oelschlaeger adopted that mentality and showed a lot of toughness by recovering from a loss and an injury. The 152-pound senior was illegally slammed to the mat in his first bout, a 4-3 loss, and stressed a muscle on his ribs in the process. However, he tried to stay loose by stretching and fighting through the tightness and pain so he could finish the night with a win against Ottawa, which he did via pinfall.
"You don't want to go out losing," Oelschlaeger said.
All of Tonganoxie's varsity seniors picked up at least one victory on the evening. Harris (135) won by pinfall in his first match and got an open victory against Ottawa. Brock (140) made quick work of both of his foes, pinning each of them. Although Hamm was pinned in his first match, he was victorious in the second, winning 13-2 by decision. Davis also impressed in a pair of wins, both by pinfall.
THS coach Jeremy Goebel was proud of his seniors, especially the four — Brock, Hamm, Harris and Davis — who have been on the team since their freshmen years at Tonganoxie.
"That group, it's nice to see four kids stick with it and get the results," Goebel said, adding that the four have become great ambassadors for THS wrestling. "They've made strides for themselves, but also they've made a name for our program through their hard work and efforts."
Goebel said he often reminds the four-year mainstays to enjoy the journey on their final go-round, and once the season ends in February, he will hate to see them leave.
"I don't want to see it as a coach because they're great kids, they come in and set an example, they go hard and on top of that, they're winning matches — big matches — for us," the coach said. "Anyone would take those four in their varsity lineup. I'm just lucky to have them."
The Chieftains won six of their 14 matches against SFTHS as junior Justin Crotty (125), sophomore Justin Soetaert (130), Harris, Brock, junior Jeremy Elliott — who, instead of competing at his usual weight class of 160, was a last-minute sub at 171 for Jeremie Maus — and Davis scored victories.
THS had a much easier go of it, however, in its second dual against Ottawa.
Tonganoxie racked up 36 points from Ottawa's open weight classes alone and went 6-2 in individual matches versus OHS for the win.
Oelschlaeger, Brock, Crotty and Davis won by pinfalls, while Hamm and Elliott each scored a victory by decision.
THS is now 5-2 in duals. Following winter break, THS will return to action Jan. 10 at the Louisburg Invitational.