McLouth junior takes giant step forward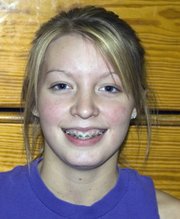 There she was every game at every position. The girl with the funny name and the killer game.
It wasn't always that way for McLouth High junior Kylie Shufflebarger.
There was a time when the tall, long-armed blonde was timid. There was a time when one mistake — one spike slammed into the net or one tip out of bounds — would ruin her confidence for the rest of the match.
"She's always been a shy girl," MHS coach Erika Houk said. "But this year, when she stepped onto the court, she had attitude. She was confident and even a little cocky, but it was the good kind of cocky. The confidence she has in herself just got a lot stronger this season."
That much is obvious by looking at Shufflebarger's final statistics. She finished with 439 kills, 184 digs, 68 aces, 37 blocks and a serve percentage of 88 percent. You don't put up numbers like that without confidence.
Shufflebarger knows that now. And she has worked as hard on her ability to lead as she did on her approach and her vertical jump.
"I've been told that I'm not a good leader because I'm not bossy," she said. "But I don't want to be bossy. I like to make everyone happy."
Because of those numbers and her more aggressive attitude, Shufflebarger plastered plenty of smiles on the faces of her teammates and MHS fans this season as the Bulldogs finished with their best record — 22-15 — in more than 20 years.
"I don't want to say it was all Kylie," Houk said. "Because other girls had great seasons this year, too. But doing so well had a lot to do with Kylie. Once she stepped on the floor she made everyone want to win."
A big reason for Shufflebarger's insane stats came from the fact that she plays every position on the floor. A lot of times, the taller players known for their skills near the net will head for the bench when they get to the back row. Not Shufflebarger. She played all over, nearly recording as many kills from the back row as she got from the front.
But it wasn't just her offense that made this season memorable for Shufflebarger. In fact, her best memories of the season often had to do with defense.
"My favorite plays this season were when I would make a good pass to get the point started and then they'd set me and I'd get the kill, too," Shufflebarger said. "My passing was definitely the most improved part of my game this year."
Shufflebarger plays the sport she loves year round. Her club team, the JC Slammers, won the 17-and-under silver regional tournament in 2008, and she's currently gearing up for another club season while playing basketball for the Bulldogs at the same time. She hopes to play college volleyball someday but has plans to finish her high school career in style.
"This year was really exciting," she said. "We haven't had that good of a record in the past, and, really, all of our athletic programs haven't had that much success recently. It's great to be a part of a winning program.
"I want to go to state before I'm done," she added. "But who doesn't?"