Wrestlers win home invite
Four Chieftains finish first as
THS

grabs team title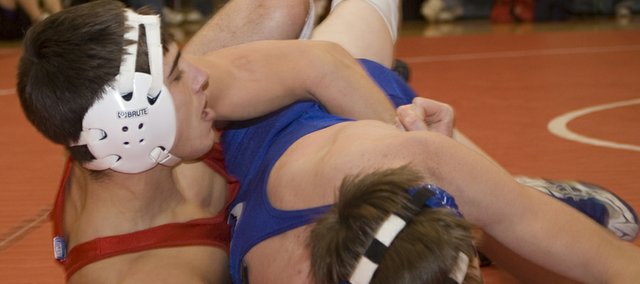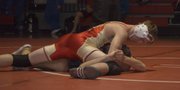 Heading into the championship round of the Randy Starcher Memorial Invitational on Saturday, members of the Tonganoxie High wrestling team knew they would have to deliver in the spotlight of the finals to successfully defend their home turf and secure a THS title.
After a long day of pool matches and the consolation rounds already decided, THS had a slim 2.5-point lead over Rock Port (Mo.) as the first-place team.
With six THS grapplers competing for individual titles, and five RPHS wrestlers doing the same, the team title was decided in the finals when four Chieftains grabbed gold and just one Rock Port combatant was victorious, giving Tonganoxie its third straight team championship at the annual home invitational.
THS senior Matt Brock (140), junior Jeremy Elliott (160), junior Jeremie Maus (171) and senior Steve Davis (189) all won individual crowns to help the Chieftains to a team title, but the victories by Maus and Davis against Rock Port opponents proved especially valuable as the final team points tally read: Tonganoxie 296, Rock Port 258.5.
"We needed everyone in the finals to pin their kids or at least win," Elliott said. "And then the kids that wrestled Rock Port — because they were like two points under us — we really needed those points so we could come out on top."
Maus won by pinfall against RPHS, as did Davis, but Davis' victory was far from certain. His opponent, Jacob Erdman, appeared to have Davis pinned in the final seconds of the first period. However, Davis gyrated to keep his shoulders off the mat until the clock hit zero.
"I'm lucky time ran out," Davis said afterward.
It was the first time he had been on his back this season, and the mistake disappointed the senior so much that he was inspired to dominate in the next period.
"I just came out in the second round with all attitude, got right up and then hit that lateral," Davis said of the maneuver that led to his winning pin.
The reversal of fortune was one of the highlights of the tournament and likely was the reason Davis received the invitational's Most Outstanding Wrestler award.
"It felt great," the senior said of the honor. "There were a lot of kids that worked hard."
That may be true, but Davis' championship victory was the most impressive, Maus said, and exciting. The junior was on the sideline watching his teammate, jumping up and down and "going crazy," as he put it.
"I wore myself out more in that than in (my) match, probably," Maus said with a grin after winning all five of his contests by pinfall. "Steve always does that. It's just amazing how he always comes back, no matter what. He could be down, 14-0, and come back and win because he has that much heart. I have a great deal of respect for him."
The Chieftains ended up with nine wrestlers in the top three of their respective weight classes as freshman Adam Thomas (103) and senior Kevin Hamm (145) finished second and freshmen Hunter Lohr (112) and Caleb Himpel (119) as well as sophomore Tyler Hand (130) and senior Jon Harris (135) took third place.
THS coach Jeremy Goebel said the championship-round victories were crucial to defending the team's back-to-back team titles at the event.
"It's been a growing trend for us. I can remember just like it was yesterday — we've had rounds at the Tonganoxie tournament and other tournaments where we would send six to the finals and go 0-6," Goebel said, noting that the wrestlers faced some adversity and persevered. "They stepped up to the challenge in order to make it happen and win it. It was a total team effort, that's what's great."
Maus said it was easy to get motivated for the home event.
"It's kind of a big drive to win it because you don't want anybody beating you at home — that's kind of embarrassing," he said.
Brock agreed, and said it was important for Tonganoxie to win its home invitational for the third year in a row.
"We just kept the tradition going," he said. "People know that we're gonna win this tournament."
Team standings
1. Tonganoxie, 296
2. Rock Port (Mo.), 258.5
3. Perry-Lecompton, 228
4. Piper, 219
5. Louisburg, 209.5
6. Blue Valley West (JV), 135.5
7. Jayhawk Linn, 42.5
8. Bishop Ward, 38.5
9. Atchison, 37.5
10. Immaculata, 30.5
11. Oskaloosa, 27.
Individual champions
103 — Austin Hood, Louisburg
112 — C. Sloop, Rock Port
119 — Nick Coffman, Piper
125 — Derrick Weller, Piper
130 — Jacob Callahan, Perry-Lecompton
135 — D. Maddan, Perry-Lecompton
140 — Matt Brock, Tonganoxie
145 — Trenton Robb, Perry-Lecompton
152 — A. Meyer, Blue Valley West
160 — Jeremy Elliott, Tonganoxie
171 — Jeremie Maus, Tonganoxie
189 — Steve Davis, Tonganoxie
215 — Alan Johnson, Jayhawk Linn
285 — T. Ewy, Louisburg
Tonganoxie individual results
103 — 2. Adam Thomas
112 — 3. Hunter Lohr
119 — 3. Caleb Himpel
125 — 4. Justin Crotty
130 — 3. Tyler Hand
135 — 3. Jon Harris
145 — 2. Kevin Hamm
152 — 6. Joao Martins
215 — 5. Austen Holloway
285 — 5. Hank Somers