Gibbens sworn in as district judge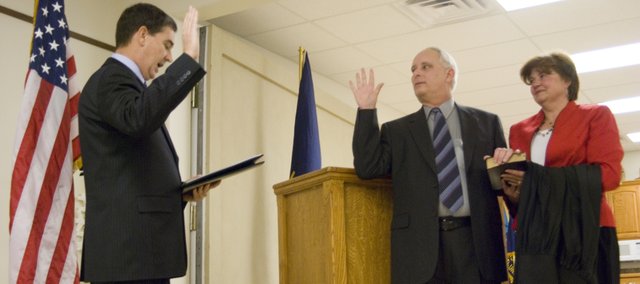 Michael Gibbens doesn't really like his new judicial duds.
He said they make him hot and he doesn't like the way they look. But now, whenever he dons on the black robes, he's going to take its traditional meaning very seriously.
"When it comes down to being a judge I can make some promises to you … and really they come down to be simple promises," Gibbens said during his swearing in ceremony Friday. "I'm going to try to the best humanly possible to hear the cases in front of me impartially and make decisions that are founded on laws, facts and common sense."
Friends, family and coworkers Friday filled the Tonganoxie Veterans of Foreign Wars Hall to attend the Gibbens swearing in ceremony as Leavenworth County's newest district court judge.
Gov. Kathleen Sebelius named Gibbens, 58, to the bench to fill the vacancy left by retiring judge Philip C. Lacey.
On hand to swear in the new judge was David King, district chief judge, who said he was honored to perform the ceremony even though they were at odds with each other.
"For more than 20 years Mike has been telling me how to do my job," King joked.
After Gibbens was officially sworn in, he took time to thank everyone who helped him along the way including his family, his law partners and Jeffery Sutton and Geoffrey Sontag and his legal assistant Charlotte Reeder. He also wanted to thank the people of Tonganoxie.
"I wanted to thank the community of Tonganoxie in particular," Gibbens said. "That's why we deiced to hold it here. It's meant so much to us over the years."