Ramp changes to turnpike coming soon
Updates could upset eastbound traffic at the East Lawrence interchange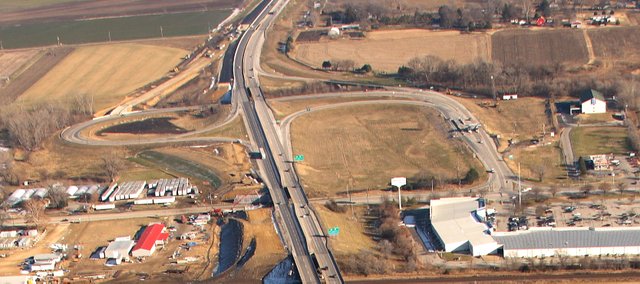 While major reconstruction work on the Kansas Turnpike's East Lawrence interchange won't start for more than a year, drivers soon will get a head start on the inconvenience.
By the end of the month, crews plan to close the interchange's existing ramp for traffic coming into town from the east. Those drivers will exit earlier, using a new and longer exit ramp.
The change will mean that eastbound traffic leaving the turnpike at exit 204 will be forced to stop at a new, temporary stop sign, then turn left onto the remaining portion of the familiar loop that leads toward the toll plaza.
The arrangement is to remain in place until spring 2010, when the entire interchange will be closed for eight months for construction of a new roundabout, ramps and other upgrades.
Rex Fleming, the turnpike's project engineer, acknowledges that the upcoming rearrangements will introduce a new set of potential traffic conflicts:
• Drivers turning left from the stop sign will be crossing traffic that is entering the loop to go west toward Topeka. "That traffic does not stop, so when you come down to the stop sign, you have to check to make sure there is no traffic coming," Fleming said.
• Drivers leaving town for Topeka will remain on their regular side of the loop but now will face running into the side of a turning vehicle. "They'll need to be driving the speed limit," he said. "Everybody through there will have to be watching the signs."
The switch likely will occur next week, Fleming said, as crews still need favorable weather conditions for installation of new asphalt.
The work is part of a $130 million project to replace turnpike bridges that cross the Kansas River. The project is expected to be finished by the end of 2011.