Blue Christmas service helps people confront pain, suffering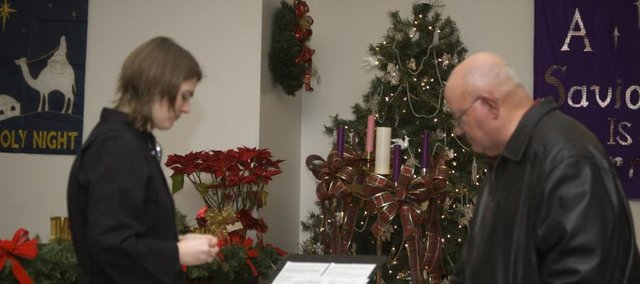 McLouth — It's a day Kathy Smith never will forget.
That day — Aug. 23, 2007 — Smith was in a one-car accident. Because of health complications from the wreck, Smith was admitted six times to hospitals during 13 months. She spent 100 days in the hospital.
So it was fitting the former McLouth resident would return to the community for the annual Blue Christmas service at McLouth United Methodist Church.
The event provides an opportunity for people to attend a service in which pain and suffering is addressed at a time when people are expected to be jolly.
"Our culture doesn't really provide a lot of space for grieving this time of year," said the Rev. Morgan Smith, pastor at the McLouth church. She and Kathy Smith and not related.
Kathy Smith, who worked as a registered nurse in Leavenworth, Shawnee and Topeka hospitals, attended the service with her parents, Tom and Evelyn McLaughlin, from Muscotah. It was her first Blue Christmas service.
During the service, the Rev. Smith spoke to about 10 people attending about confronting pain, whether that pain comes from the loss of loved ones or other struggles.
For Kathy Smith, the complications from the accident, including a lengthy staph infection, have taken a toll. Coupled with ups and downs in her personal life, it's been a tough year.
"It has been near-death for me more than once," she said. But the church service's message of courage and everything being part of the healing process really struck a chord.
During the service, the pastor lit four small blue candles surrounded by small white candles. The blue candles, she told those attending, represented grief, courage, memories — both good and bad — and love that binds people to loved ones they've lost and those still alive.
The white candles represented people who were being thought of that evening.
Ken and Elsa Edmonds, of McLouth, lit candles for longtime friends from college, as well as a relative.
Elsa said she and her husband were part of a tight-knit group — with five other couples — who had sent round-robin letters since they graduated from McPherson College some 55 years ago. This year, three members of their pack died within a few months.
"It makes us all think about our mortality," Elsa said.
It was not her first Blue Christmas service, but Elsa was impressed with this year's, which was Smith's first as pastor of the church.
"It was very comforting," Elsa said. "And what the blue candles stood for meant more to me than anything."