2008: The top 10 stories from the year that was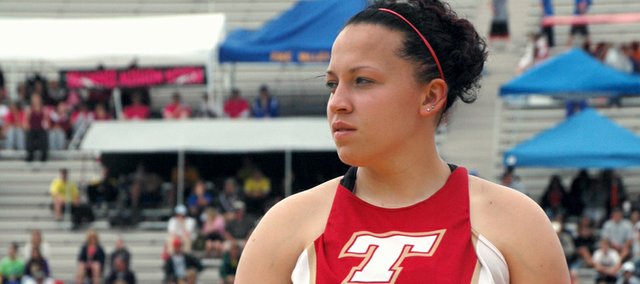 As the calendar turns from 2008 to 2009 this week, it is time to take a look back at the top local sports stories of the past 12 months.
Whether it was a javelin being hurled, a Bulldog team dominating or records falling left and right, 2008 was a year to remember for area high school athletes and teams.
1. Grizzle foremost thrower in state … again
In her final event in a Tonganoxie High uniform, Nebraska-bound Chieftain senior Roxi Grizzle threw a Class 4A state-meet-record javelin throw of 165 feet, 5 inches on her way to defending her state javelin title in 2008.
Grizzle won every javelin event in which she competed during her senior year at THS and was named the 2007-2008 Kansas Girls Track and Field Athlete of the Year by Gatorade and RISE Magazine for the second year in a row. The honor came in June just days before she placed second in the women's javelin at the USA Junior Outdoor Track and Field Championships in Columbus, Ohio.
2. McLouth softball has best season ever
The McLouth High softball team delivered an undefeated regular season in 2008, carrying a 20-0 record into the Class 3A state tournament.
After defeating Herrington in the first round and losing a heartbreaker to eventual state champion Thomas More Prep in the semis, the Bulldogs picked up a second state victory in the third-place game. Pitcher Sam Farris struck out 13 Riverton batters in the state consolation game. And she capped her big day by knocking in a game-winning double that scored junior Lezley Lawson in the bottom of the eighth for a 1-0, extra-inning victory.
The two postseason victories were the first in the program's history. MHS finished the season 22-1.
3. Three Chieftain wrestlers medal at state
Following a rough start at the Salina Bicentennial Center on the first day of the 2008 Class 4A state tournament when Chieftain wrestlers began 1-5 and finished the day 4-9, THS turned things around quickly the next day at the tourney.
Junior Matt Brock and seniors Cameron and Travis Adcox — the three THS grapplers who weren't eliminated on the first day — combined for a 6-0 start on Day 2 and each placed in the top six of his weight class by advancing to the semifinals of the consolation bracket.
Brock (130) and Travis Adcox (140) finished fourth and Cameron Adcox (285) took sixth, marking the first time in THS history that more than one wrestler placed at state in the same season.
4. Track and field records were made to be broken
The Chieftains had a banner year in 2008 as, remarkably, 10 marks in the THS record books were broken by Chieftains this year. A quick perusal of the record board at Beatty Field shows an abundance of "08"s next to the names of this year's athletes and the new standards in times or distances they set.
Tracie Hileman set new individual records in the 100-meter hurdles, long jump and triple jump. She also was the owner of a record not kept on the THS board — Hileman is the girls all-time points leader with 757.
Girls records
100-meter hurdles — Tracie Hileman, 15.65
Long jump — Tracie Hileman, 17-1
Triple jump — Tracie Hileman, 35-2
4x400 relay — Andie Jeannin, Megan Puhr, Cristina Rubio, Christy Weller, 4:06.7
4x800 relay — Andie Jeannin, Megan Puhr, Katie Chenoweth, Christy Weller, 9:57.65
Shot put — Roni Grizzle, 43-6
Javelin — Roxi Grizzle, 165-5
Boys records
800-meter run — Jeremy Carlisle, 1:57.4
4x400 relay — Austin Stone, D.J. Lindsay, Bret Koch and Jeremy Carlisle, 3:27.7
5. THS girls basketball team wins 13 straight
Although the streak began in 2007, the THS girls won all but one of the games that comprised their 13-game win streak (which started Dec. 18 and ended Feb. 22) in 2008.
Tonganoxie outscored its opponents 694–460 during that stretch for an average margin of victory of 18 points.
THS finished the year 19-4 and lost its final game of the season in a sub-state final to host Holton, a team that went on to the Class 4A state championship game and lost in overtime to undefeated Andover Central.
6. Chieftains baseball falls a few runs shy of state
Third-year THS baseball coach Phil Loomis' team went 14-9 in 2008 — winning 10 of its last 14 — after finishing 8-9 in 2007 and 6-16 in his first year at the helm.
The Chieftains defeated Atchison, 13-6, and Holton, 10-3, in the regional tournament before falling to a deep and talented Hayden team, 6-2, in the regional final.
Tyler Lupton pitched THS to a victory against Atchison, and Erick Lowe was the winning pitcher versus Holton. Sophomore Brandon Yoder hit a two-run homer against Holton and Hayden.
The Chieftains' season took a turn for the better when they defeated powerhouse, and eventual Class 4A 2008 champion, Bishop Ward, 1-0, late in the season.
7. Extras aplenty for THS softball
The Tonganoxie softball team entered the postseason below .500, but found itself in the regional semifinals with No.1 seed Baldwin.
After seven scoreless innings with the Bulldogs in Eudora, the Class 4A semi went to extras. THS finally scored what proved to be the winning run in the top of the ninth inning when Sarah Flaherty singled, stole second and third and scored on a passed ball.
That solitary run placed the Chieftains in the regional championship game later that night with Santa Fe Trail.
Tonganoxie trailed by four runs early in that contest, but, with a trip to state on the line, battled back and tied the game in the bottom of the seventh to force extra innings once again.
However, the Chieftains weren't as fortunate in the nightcap and fell, 6-5, to the Chargers when they couldn't match the SFTHS run in the bottom of the ninth.
THS finished the season 10-12.
8. Tonganoxie volleyball turns season around
At one point in the season, the Chieftains looked pretty average with an 11-11 record. However, THS won 15 of its final 19 matches and finished 2008 with a record of 26-15.
The turnaround was impressive considering the team's youth. With 10 of their 11 players going through their first sub-state Oct. 25 at Eudora — only four-year mainstay Chrissie Jeannin had played at that level previously — Tonganoxie narrowly lost to host Eudora in a semifinal after sweeping De Soto in the first round.
9. Hoops coach Walker resigns; Phillips hired
After seven years as head coach and two as an assistant, David Walker stepped down from the helm of the Tonganoxie High boys basketball team. Citing a desire to spend more time with his family, Walker informed THS athletics director Brandon Parker of his decision a few days after the Chieftains' season came to an end in a Class 4A sub-state tournament and his resignation was announced at the school board meeting March 10.
The hiring of Walker's replacement, Shawn Phillips, a 1994 THS graduate and resident of Tonganoxie, was approved at the school board meeting April 14. Phillips came to THS from Turner High in Kansas City, Kan., where he was a boys varsity assistant coach and head junior varsity coach for three years. Phillips' coaching career began at Tonganoxie in 1996 when he coached the Chieftains' freshman team for three seasons.
10. Tonganoxie football posts winning record
The football season didn't end so great for Tonganoxie this year (THS lost, 48-12, in its finale against Bishop Ward), but the Chieftains notched four more victories this season than they did in 2007, when the team went 1-8. THS finished 5-4 in 2008 with a 2-3 Kaw Valley League record and a 1-2 district mark.
The Chieftains defeated Prairie View and Wyandotte at home and picked up three road victories with wins at Osawatomie, Santa Fe Trail and Piper.